Skip to Content
Skip to Navigation
Not long after, French chemist Nicolas Leblanc produced sodium carbonate in 1791; pharmacist Valentin Rose the Younger discovered Sodium Bicarbonate in 1801. Neither Leblanc nor Younger could have imagined their discoveries' impact on future generations.
How is it made, or where do we find it? 
Sodium Bicarbonate is generally synthetically manufactured using the Solvay or the Trona Process.
The Solvay process is an industrial method used to produce Sodium Bicarbonate, commonly known as baking soda. The Solvay process is the reaction of Sodium Chloride, ammonia, and carbon dioxide in water. 
Alternatively, the Trona process converts naturally formed/mined soda ash into bicarb.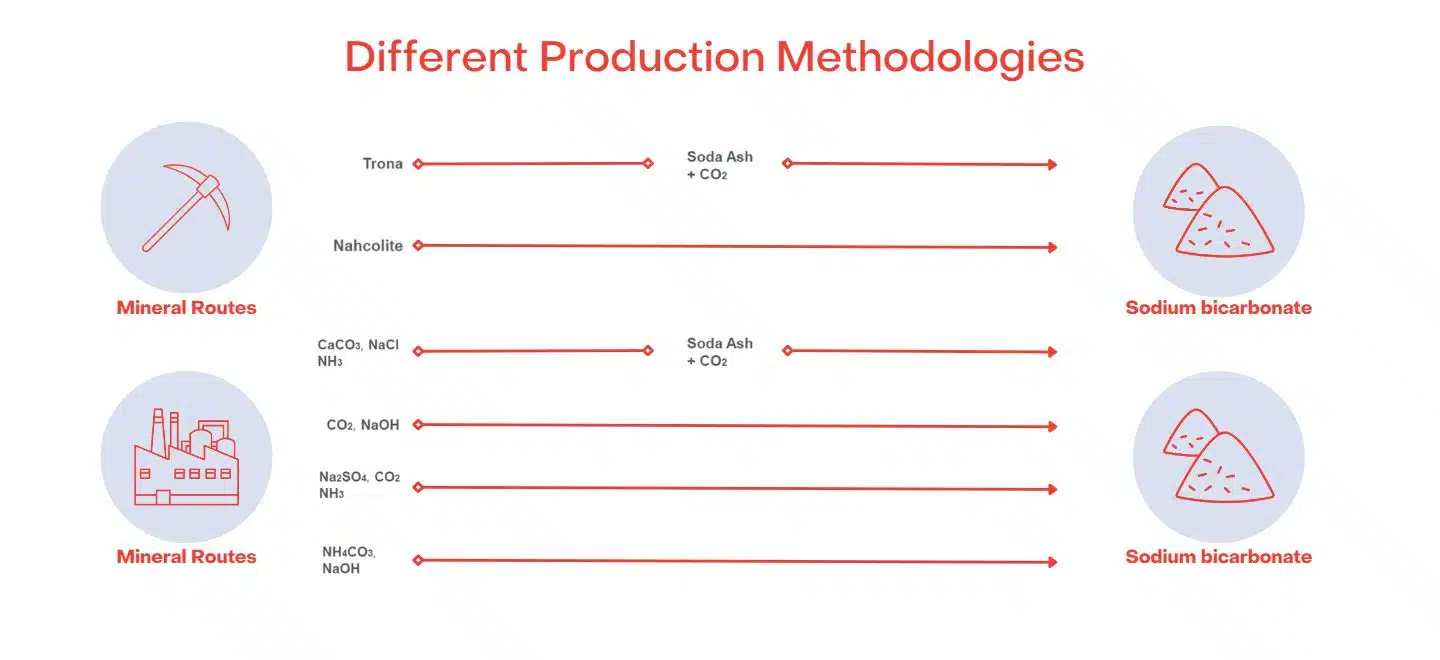 However, it can also be found naturally occurring in evaporated lake basins worldwide. The largest commercially viable source is Natural Soda in Colorado, USA, which has full organic certification.
Different uses of Sodium Bicarbonate in the food & beverage industry
The flexibility of Sodium Bicarbonate is an undeniable asset for many industries, none more so than the food and beverage industry. 
In baked goods, it acts as a leavening agent that produces carbon dioxide when combined with an acidic ingredient such as vinegar or lemon juice. This causes the dough to rise, creating lighter and fluffier baked goods like cakes and muffins. Not only that, Sodium Bicarbonate can also be used to make carbonated beverages like sodas and sparkling waters by dissolving it into water. 
The dissolved sodium bicarbonate can then be added to other ingredients like flavourings, syrups, and colourings to create a refreshingly fizzy drink. 
Lastly, Sodium Bicarbonate can also be used to tenderise meats for marinades or sauces, as its alkaline nature helps break down tough fibres in the meat's muscles.
Sodium Bicarbonate's application in animal feed
Sodium bicarbonate is a vital ingredient in animal feed due to its numerous benefits. 
It serves as an excellent source of electrolytes essential for healthy bodily functions. It also helps to maintain proper pH levels in the body, which improves digestion and increases nutrient uptake. 
In addition, Sodium Bicarbonate can help reduce the build-up of lactic acid in the muscles, allowing animals to perform better during strenuous activity. Besides that, it can also act as a buffer against digestive upsets such as acidosis and scours and protect against microbial toxins. 
All these benefits make Sodium Bicarbonate an essential ingredient in animal feed for optimum health and performance.
But its utility goes beyond the Food and Feed industries. For example:
It's commonly used in water treatment and swimming pools for pH adjustment.

Being an alkali, it assists in removing stains in cleaning and is used in laundry and dish detergents.

Bicarb is hygroscopic, meaning it absorbs moisture and hence odours.

Finely powdered bicarb is injected into industrial exhaust stacks to de-sulphurise flue gas before it can escape into the atmosphere.

Mix it with a bit of water to make a paste, and it relieves insect bites on your skin.

Calms indigestion and heartburn.

It's the abrasive in toothpaste (also helps to remove odours in your breath).
How can we help you?
In 2022, despite the unprecedented supply chain hurdles of a global pandemic, Redox successfully distributed Sodium Bicarbonate across Australia and New Zealand to meet growing demands in both countries and Malaysia.
Redox's Sodium Bicarbonate is available in various packing sizes, including 25kg bags and bulker bags, coming in a range of food, feed and industrial grades and conforming to FAMI-QS and Food Safety Regulation.
Contact one of our experts to discover how Redox can be essential to your sourcing strategy.
Exciting news from one of our partners, Tessara, as they have officially launched two new products at Asian Fruit Logistica Bangkok. Two new sulphur pad products for table grapes, called Uvays Vivo and Berrisys, for the blueberry industry which extends the shelf life of blueberries during storage and transportation. 
Read more below about this exciting launch.
Tessara manufactures sulphur dioxide laminated sheets (sulphur pads); the company specialises in fresh science by providing post-harvest solutions that maximise the shelf life of valuable fresh produce to minimise food waste. 
Tessara's production facility is BRC accredited with an AA rating and operates 24/7, 5 to 7 days a week. They have approximately 200 staff, including representatives and agents in key markets in Asia, Africa, Europe, Australia, and North and South America. Tessara offers an innovative range of products that increases the shelf life during post-harvest storage and transportation. 
"Our sulphur dioxide laminated sheets are scientifically designed for individual crops: table grapes, blueberries, raspberries, blackberries and cut flowers. All our products are for post-harvest application; they sterilise the fruit and destroy fungal pathogens, mainly Botrytis cinerea, a common cause of post-harvest rot during storage. Our focus is about keeping fresh produce fresher for longer." 
Tessara's range of products includes UVASYS and UVASYS VIVO, the fully recyclable sulphur pad for table grapes. In addition, BERRISYS and BERRISYS LITE are for berries – blueberries, raspberries, blackberries, and FLORASYS– for cut flowers. 
"A smart change in your post-harvest system can significantly affect your valuable crop's shelf life. We enjoy discussing everything post-harvest to maximise shelf life. 
Both products are available and used in South Africa and the UK, with Turkey and Georgia following suit. In Australia, the APVMA registration for Berrisys is pending for December 2022. We eagerly await this approval to assist the Australian industry with its exports and domestic market opportunities for APVMA registration. Stay tuned and contact us if you have any questions regarding this exciting new product.
Did you know that Hydrochloric Acid is also known as HCL, muriatic acid, or spirits of salt? It's utilised in a variety of industrial and commercial settings. For those who work in industries that use this chemical, it's vital to understand the most common applications, what they accomplish, and what you need to know to handle them safely and responsibly.
Hydrochloric Acid is an odourless, colourless solution with a pungent smell. But behind this almost invisible veneer lies a powerful punch. For instance, Hydrochloric Acid can react with metals to form an explosive gas. Yet, it can also be found in many home cleaning products.
Hydrochloric Acid is classified as a class 8 hazardous product, i.e. it's a corrosive substance and can cause burns and irritation to the skin. Due to its corrosive properties, extreme care must be taken when handling this product. Make sure to wear appropriate safety equipment when handling hydrochloric acid. Ensure to avoid direct eye contact; if this occurs, seek immediate medical advice. 
We recommend you consult the safety data sheet when using, storing or handling the product.
Hydrochloric Acid in the market and its many uses
This potent acid is found in many industries and has a wide range of uses.
The most significant end uses for Hydrochloric Acid are steel pickling, oil well acidising, food manufacturing, producing calcium chloride, and ore processing.
We also find substantial use of Hydrochloric Acid across many other industries like:
Mining, 

water treatment, 

oil/gas, 

detergents, 

leather, building, 

textile, 

rubber, 

photography. 
How its used also varies significantly. For instance, in water treatment, it's used to control pH levels, or in swimming pools, it can help remove any stubborn algae from the floors and walls of your pool. 
In acidising oil wells, it helps remove carbonate reservoirs, or limestones and dolomites, from the rock. It's used in laboratories for acid-base titrations and for producing organic and inorganic compounds like PVC.
In 2020 the global Hydrochloric Acid market size was US $7.8 billion and was expected to record a revenue CAGR of 1.5% over the forecast period through 2028. 
How can we help you?
Redox's Hydrochloric Acid is available in various pack sizes, including 20-litre carboys, 240 kg drums, 1150 kg IBCs and bulk tanker/Isotainers loads. The product comes in a range of strengths ranging from 6% to 33%, with 32% hydrochloric acid being the main commonly used strength.
Contact one of our experts to discover how Redox can be essential to your sourcing strategy.
Dextrose is the name of a simple sugar mainly derived from grains such as corn or root plant. Find out how Redox can become integral to your Dextrose sourcing strategy.
What is Dextrose & how is it used?
Dextrose is used in many products because it has several beneficial effects and is widely available. Its often used as a sweetener or preservative or to neutralise food that is too spicy or salty. It has a high glycaemic index, increasing blood sugar levels quickly and is an excellent source of energy.
It's frequently used and commonly found in the below food items:‌
Sauces‌
Seasoning mix‌
Chips‌
Cured meats‌
Canned foods‌
Pickles‌
Crackers
Fruit jams
Our Dextrose can also be used in animal feed /pet food and various industrial usage; however, they are more commonly used in confectionery, beverages, dry mixes and meat treatment because it adjusts sweetness and refreshes taste.
Does it have medicinal applications?
Dextrose is periodically prescribed by doctors alone or combined with other medications. It's usually administered either intravenously or orally. It can be used to treat low blood sugar and dehydration, as well as to provide nutrition.
How can we help?
Our Dextrose is a non-GM product, available in both Monohydrate and Anhydrous variants and meets rigorous standards while retaining its authentic essence and taste. It is available in 15-25kgs bags and 800kgs bulk bags, which we routinely supply to our customers around the globe.
Redox is in a great position to meet and surpass your expectations. So contact one of our specialists by filling in the below form and have one of our team get in touch with you.
Lactic Acid is a versatile material found in a variety of innovative products that was first discovered by the Swedish chemist Carl Wilhelm Scheele in 1780 and produced commercially by Charles E. Avery in 1881. 
It's Applications in Industry?
Lactic Acid is a naturally occurring organic acid utilised in various industries, such as cosmetics, pharmaceuticals, chemicals, food, and, most recently, medical industries.
In the food industry, which accounts for a large portion of the demand (35%), it has several uses:
It acts as an acidifier for bread,
prevents the development of harmful bacteria in pickles, relishes, salad dressings,
adds a mild-tasting sourness to beverages and candy,
In dairy products, it is used to prevent fermentation and,
It is an essential ingredient in fermented foods, like yoghurt, butter, and canned vegetables.
However, it is also used as an antimicrobial in cleaning products, has applications in the leather tanning industry, in descaling processes, in the textile industry as a mordant (fixative) for dyeing, and can be converted to ethanol, propylene glycol, and acrylic polymers in the chemical industry.
Although it's been commercially available for a long time, it is only in recent decades that new uses have resulted in a tremendous increase in demand.
For example, its an essential building block in producing a range of new and innovative bioplastics, PLA or Polylactic Acid – the new generation of biodegradable polymers.
The use of Lactic Acid in manufacturing environmentally friendly, green solvents is another area for significant potential growth. Using it as a green solvent enriches the diversity and versatility of bio-based green solvents and could offer an effective means for designing environmentally benign synthetic systems.
Its application and innovative usefulness seem ever-growing, and in 2010, it was included in a report issued by the U.S. Department of Energy on chemicals that are considered potential building blocks for the future.
Lactic Acid from Redox
Redox is proud to work with leading manufacturers of Lactic Acid and Lactates globally and can create solutions for all customer requirements.
Redox supplies Lactic Acid in the Australian, New Zealand, Malaysian, and North American markets and is available in various packing sizes. These include 25kg carboys, 250kg steel drums and 1200kg IBCs.
We offer it in a range of varied strengths, with a powder form also available for specific applications. Our Lactic Acid conforms to the Food Chemicals Codex (FCC), ensuring our product's overall safety and integrity.
Contact one of our experts to discover how Redox can be an essential element of your sourcing strategy.
In 1814 a German scientist named Friedrich Ferdinand Runge developed a method to extract pure cocoa powder into its most potent form. The result was a white powder containing both fat molecules (known as acids) and sugars, which create energy when digested in our body. Today that substance (caffeine) is easily extracted and used to make various products we consume daily.
Caffeine and its numerous uses
We all know that caffeine is found in our daily coffees and teas; some might also be familiar with its move into the energy drinks and the sports performance markets. The reason it has been so effective and popular in these products is that caffeine keeps us awake, alert, and active whenever a little more energy is needed.
A lesser but more recent use case is caffeine in hair care products. Caffeine boosts hair growth by stimulating the hair roots. Haircare products with caffeine also strengthen the hair itself and make it more manageable on a day to day basis.
And it's not just used in women's hair products. Many men face early hair loss due to the effects of the male hormone dihydrotestosterone (DHT), which acts on susceptible hair follicles. Caffeine penetrates the hair roots and stimulates them, delaying or subverting male pattern baldness.
Whether it's brewed from an espresso, downed in sweet tea, savoured in chocolate or consumed in cola, caffeine is a mild stimulant to the central nervous system that has become a standard fixture in everyday life.
Synthetic v Natural Caffeine
These days the majority of the caffeine used in the market is synthetically derived as it is more cost effective to produce than the natural manufacturing process. Caffeine is found naturally in plants that humans have been consuming for thousands of years such as fruit, leaves, coffee beans, cacao, and guarana plants.
Caffeine: did you know?
Here are some fascinating facts about caffeine to consider:
Coffee, soft drinks, and tea account for 97% of beverage caffeine consumed in the United States, with coffee accounting for the most significant proportion.
Studies suggest that it can improve mood and concentration, sharpen your focus, and increase lifespan.
Caffeine has been shown to enhance physical performance by 3%. Aside from telling your brain it's not tired, caffeine improves calcium release in our muscles, allowing them to work harder.
How can we help?
Working with a supplier that can guarantee consistent quality is critical; Redox is in a great position to meet and exceed your expectations.
We offer both synthetic and naturally derived sources of caffeine across all regions. The supply of this item has been challenging for the past couple of years and requires a lot of planning to ensure continuity of supply. To avoid disruptions, Redox encourages its customers to plan ahead assuming long lead times than in the past.
Contact one of our specialists to learn how Redox can be an integral part of your sourcing strategy.
Benzoic acid was famously observed in the 1500's by a well-known French astrologer, physician, and reputed seer, this naturally occurring aromatic carboxylic acid has an equally historic connection to Redox.
The sixteenth century saw the discovery of benzoic acid with Nostradamus (1556) first describing the dry distillation of gum benzoin, followed by Alexius Pedemontanus (1560) and Blaise de Vigenère (1596), but it was Justus von Liebig and Friedrich Wöhler determined the chemical structure.
Benzoic acid has a long history here at Redox also and has remained in our product line for 56 years. Our founder, Roland Coneliano, dealt with our current principal from the outset and found success in the coatings and resins sectors early on; a customer we still supply to today.
How is it Manufactured?
Benzoic acid is a natural component of numerous plants, animals, and berries (cranberries, plums, strawberries, apples, and prunes). As a result, it can also be found in many food products, including milk products such as yoghurt.
Synthetic manufacturing of benzoic acid occurs in the chemical reaction between Toluene and oxygen at high temperatures with a catalyst of cobalt and Manganese salts.
What is it used for?
Benzoic acid is produced in large quantities and utilised for a variety of reasons across a diverse range of industries, including the production of perfumes, dyes, topical medicines, and insect repellents. Other uses are:
As a preservative in foods as it can fight off fungi, bacteria and assist in extending shelf life, it's also ideal for preserving acidic foods, jams, pickles, fruit juices, aerated drinks and it doesn't affect taste or odour.
To stop corrosion when used in emulsion formulations and used in alkyd resins.
In animal feed it regulates the gut, assists in digestion, nutrient absorption and helps the animal feel fuller.
Cosmetics, where it acts as a soothing agent and in combination with salicylic acid, it can ease irritation with eczema, insect bites and fungal infection.
Redox supplies benzoic acid across a wide range of industries, including coatings, construction, cosmetic, food and animal feed. We have also made significant inroads into the multinational beverage business with our FCC USP grade of Benzoic.
We have benzoic acid available in Australia and recently introduction sales to the US market. Redox can supply 25kg plastic vacuum sealed bag and 500kg TYPE C antistatic bags specifically for the coatings industry.
Contact us today and speak to one of our industry specialists to find out more.
Ion Exchange is a reversible chemical reaction where dissolved ions are removed and replaced with other ions of the same/similar electrical charge. This mechanism is exploited by Ion Exchange Resins which are a medium that facilitates the exchange of ions between the resin beads and the water as it moves past inside a vessel.
This process can create ultra-pure water for use in the production of semiconductors, solar photovoltaics, pharmaceuticals, and flat panel displays for rinsing/cleaning and various other critical processes.
Food manufacturers can use Ion Exchange Resins in a host of ways, from purifying water to use as an ingredient to decolourising, demineralising, and removing taste and odours.
In power stations Ion Exchange Resins are used to demineralise feed water and treat condensate from the steam cycle. They are even utilised to recover various metals such as gold, uranium, and copper.
Possibly the widest use is as a pre-treatment step in various water treatment settings where they can work to improve the efficiency of Reverse Osmosis plants by lessening the load on filter membranes.
The two most commonly used Ion Exchange Resins are:
Cation resins, that exchange positively charged ions, such as sodium, for calcium,
Anion resins, which exchange negatively charged ions, such as chloride, for arsenic.
They are used to remove poisonous and hazardous metal ions from solution, replacing them with more innocuous ions, such as sodium and potassium.
How Ion Exchange Resins work
Water softening is the removal of calcium, magnesium, and certain other metal cations in hard water. The resulting soft water requires less soap for the same cleaning effort, as soap is not wasted bonding with calcium ions.
Soft water also extends the lifetime of plumbing by reducing or eliminating scale build-up in pipes and fittings.
Hard water is formed when water percolates through deposits of limestone, chalk or gypsum which are largely made up of calcium and magnesium carbonates, bicarbonates and sulphates. Iron oxides or iron carbonates can give a reddish-brown colouration to hard water deposits.
And while The World Health Organization says that "there does not appear to be any convincing evidence that water hardness causes adverse health effects in humans", there are studies that correlate domestic hard water usage with increased eczema in children.
They can help improve both access and quality by helping provide a higher level of filtration for drinking water in developing countries around the world.
Redox can supply it in 25L and 1000L bags.
Contact us today and speak to one of our industry specialists to find out more.
In this month's Employee Spotlight, we talk to Director and Food Industry Group Manager, Ken Perrins.
How has your career progressed over the years, what was your first important role?
My journey at Redox started a little different to most. I'm fortunate enough to work with a number of other successful family companies, especially in the wine industry. Those family businesses have beautiful romantic stories of the younger generation running around a vineyard or wine barrels. However, for my cousins and I, we grow up with forklifts, warehouses and barrels of caustic soda. Still a lot of fun!
From an early age we were mystified by the chemicals that our Grandfather would bring home from work. He made crystals with copper sulphate and change the colour of copper coins to silver with Sodium Zincate. That curiosity in chemistry developed from a young age and continues to motivate and interest me today.
I started off filing shipping documents during school holidays. Today I have a few responsibilities, one of which is Food Industry Manager, which I have seen grow immensely in the past 25 years. We can now boast that we supply pretty much all of the major food & beverage manufacturers in Australia and New Zealand and are also making great progress in Malaysia and USA.
How has Redox's food industry presence developed over the years, what are the opportunities you see in the area?
Without question the food industry is evolving rapidly with consumer trends. Consumers are very aware of the foods they eat. Both from a health perspective and an ethical/responsible sourcing perspective.
With this in mind, Redox has evolved with the changing market and now offer a very different product portfolio than that which was offered when I started 25 years ago.
We see huge potential in this space and continue to look for novel and innovative ingredients to offer our clients.
What are your work mates like?
I can sincerely say that I work with a great bunch of people, in and outside of the food industry. It has been a pleasure to know many of our staff for 20+ years.
Around the water cooler there is always great banter about weekend activities, family, sports as well as the odd bit of business.
I hear you are an avid Scuba diver, what got you interested in that?
Before children I had the time to Scuba dive, but don't get to much anymore. Now and again, I spearfish, but must say I'm not very good at it. Recently I've been on a mission to get my kids off the 'screens' and have taken them on a few overnight hikes in the national park.
Bit of a cliché but a really great bonding experience.
Glycerine, Its name comes from the Greek word Glykys, meaning sweet, but this once considered insignificant product sprung from less humble beginnings. 
Glycerine is a trihydric Sugar Alcohol (polyol) that presents as a colourless, odourless, viscous and slightly sweet liquid. It is commonly used as –
• A sweetener, to make medicine more palatable
• A Humectant, to keep foods moist
• A moisturiser, to keep skin supple
• A solvent, to carry flavours/colours and to dissolve grime
• A plasticiser, to improve texture in, icing/frosting and confectionary
• A lubricant, to maintain the machinery that manufactures surface coatings, resins, paper, rubber, plastics and urethane polymers.
Let's dig a little deeper shall we.
In the beginning…
Glycerine was first synthesised in the late 1700's by soap manufacturers but at the time, it was considered an economically insignificant product. In 1846 Nitro-glycerine is developed by Ascanio Sobrero by treating glycerol with a mixture of nitric and sulphuric acid. Then in 1866, a Swedish chemist named Alfred Nobel developed Dynamite, an improvement of nitro-glycerine.
Feats of engineering such as the Panama Canal and Central Pacific Railroad would not have been possible without dynamite. Suddenly, Glycerine was no longer considered an economically insignificant product.
From economically insignificant to a necessity.
Glycerine is now produced on a much larger commercial scale by hydrolysis or transesterification of vegetable oil, which produces fatty acids, soap noodles, or Biodiesel whilst generating crude glycerine as the by-product.
Crude glycerine is further refined by vacuum distillation and bleaching with activated carbon to produce a 99.7% pure pharmaceutical grade material that is safe for human consumption, and is a necessary component in a variety of household products, most notably food, cleaning agents and toiletries.
And because Glycerine is a humectant, it is commonly used in skin care products with other types of moisturizing agents, to trap the moisture that it then draws into the skin.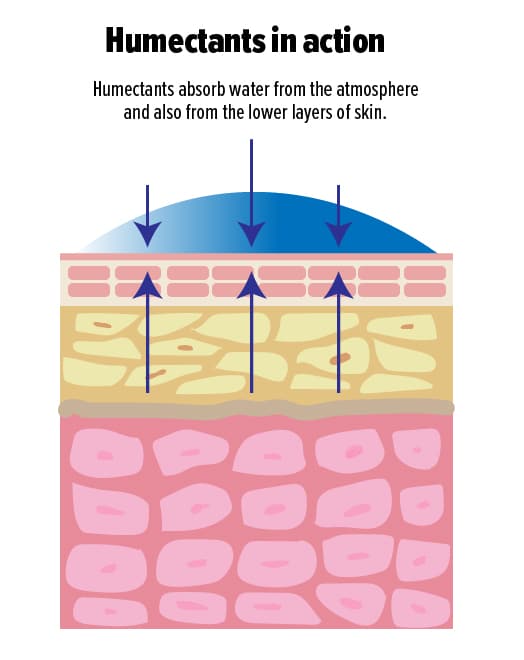 According to a 2016 study, Glycerine is "the most effective humectant" in comparison with numerous others.
Where can I get it?
Redox supplies thousands of tonnes of Glycerine annually to customers based in New Zealand, Australia, Malaysia and USA, including to some well-known multinational brands whose everyday products are likely sitting at home in your Kitchen, Bathroom, or Laundry.
Want to know more? Contact one of our industry specialists today and ask them about Glycerine.
Our Partnering Manufacturers
Redox opens up a world of opportunity giving you access to more than 850 of the world's best manufacturers.