Skip to Content
Skip to Navigation
In today's Animal Nutrition Insights, Redox's Animal Nutritionist Dr Yumin Bao shares information on Yeast Peptides and how their inclusion in animal feed can improve several conditions that often affect animal health.
Yeast peptide is a naturally occurring molecule with 19 unique amino acids, long lasso structure antimicrobial peptide from the bacteria Citrobacter braakii.
Usually, this peptide has been referred to as the host defence peptide to directly kill bacteria, yeasts, fungi and virus. Because this peptide exhibits a net positive charge and a high ratio of hydrophobic amino acids, it can selectively bind to negatively charged bacterial membranes and is able to cross the membrane to inhibit RNA synthesis, resulting in lysis of the targeted pathogens such as E.coli and Semolina.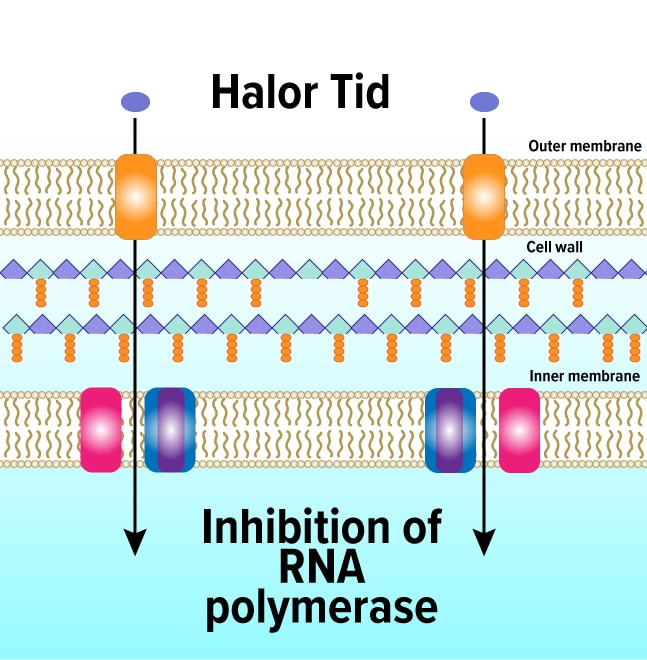 Therefore, different from antibiotics, it is difficult for pathogens to develop the resistance to this peptide since it would require drastic changes in the composition of membranes in targeted bacteria.
It has been demonstrated that the addition of this yeast peptide can improve several conditions in the below animals:
Weaning piglets with an average body weight at 7.98 kg for 28 days –
significantly reduced diarrhoea incidence from 12.4% to 6.74%
increase daily body weight gain by 7.1%
feed conversion ratio by 8%.
Laying hens –
increased egg production by 3.8%
significantly reduced broken eggs and mortality rate.
In broiler chickens, compared with the antibiotic treatment, the combination of this yeast peptide and the acidifier significantly reduced the mortality rate and improved body weight gain by 8.4%. As well in ruminants such as lambs, this yeast peptide has the significant effect on the prevention of urethral calculus.
In a field trial study conducted in China, the incidence rate of urethral calculus in three farms were 5.56%, 4.55% and 1.45%, respectively, one week after using the yeast peptide, the incidence of urinary stone dropped to zero due probably to the fact that the yeast peptide reduces pathogens infections.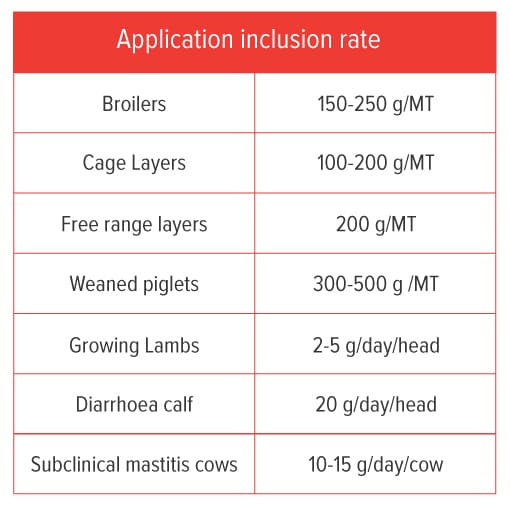 Want to know more? Contact one of our industry specialists and ask them today.
Butyric acid is an important short chain fatty acid that has antimicrobial activity and is now being widely used as feed additives to control pathogens.
Butyric acid is produced within the animal intestinal lumen by bacterial fermentation of undigested dietary carbohydrates and endogenous proteins. 90% of this butyric acid is metabolized by cecal epithelial cells or colonocytes to provide multiple beneficial effects on gut health.
However, free butyric acid has an offensive odour and is difficulty to handle in practice. In addition, free butyric acids has been shown to be largely absorbed in the upper gastro-intestinal tract, resulting in the majority not reaching the large intestine, where butyric acid would exert its major function.
Therefore, commercial sodium salt butyrate has been developed to ease the handling and prevent the release of butyric acid in the upper gastro-intestinal tract.
But tributyrin consists of butyric acid and mono-butyrin and in the upper gastro-intestinal tract, tributyrin is hydrolzed into butyric acid and α-mono-butyrin but in the hindgut, the major molecule will be α-monobutyrin which provides more energy, to boost muscle growth and to promote capillary development for better nutrients transportation.
There are a number of disorders associated with the gut health of chickens including:
diarrhoea
malabsorption syndrome
coccidiosis
necrotic enteritis
The addition of tributyrin has been widely used to combat gut disorders, and ultimately enhance chicken gut health.
In layer chicken hens, it is able to improve calcium absorption in particular in older laying hens and improve eggshell quality.
In piglets the weaning transition is a critical period due to severe stress resulting from shifting from liquid to solid feed, changing in environment, and mixing with new pen mates.
In a recent piglet trial we conducted in Rivalea, it is clearly shown that adding 2.5 kg Tributyrin /MT post weaning diets for 35 days improved body weight gain by 5% and feed conversion ratio by 3 points.
Tributyrin can also be used in milk as a replacer for whole milk and partially negates the negative effect that milk replacers have on rumen development.
Want to know more? Contact one of our industry specialists today and ask them today.
Our Partnering Manufacturers
Redox opens up a world of opportunity giving you access to more than 850 of the world's best manufacturers.