Skip to Content
Skip to Navigation
The Water Industry Operators Association of Australia (WIOA) is the peak national body for those working in operational roles in the water sector. . 
With its increasing national membership base, WIOA assists its members and water industry stakeholders in collecting, generating, and exchanging high-quality operational information.
Each year, WIOA host a variety of operationally focused conferences and exhibitions whose fundamental goals are:
The distribution of the latest "operational" technical and research-based information through platform and poster presentations.
Update of knowledge and skills plus network development by operations staff through interaction with fellow Water Industry employees.
Provide opportunities to view and discuss the latest advances in technical equipment and systems with suppliers and trade consultants.
Redox attends all major WIOA conferences annually and will be there at the Tamworth Regional Entertainment and Conference Centre (TRECC) this April 6th and 7th.
The conferences cover a wide range of industry personnel from all levels of the industry. This includes key decision-makers, engineers, and of course, the operators themselves.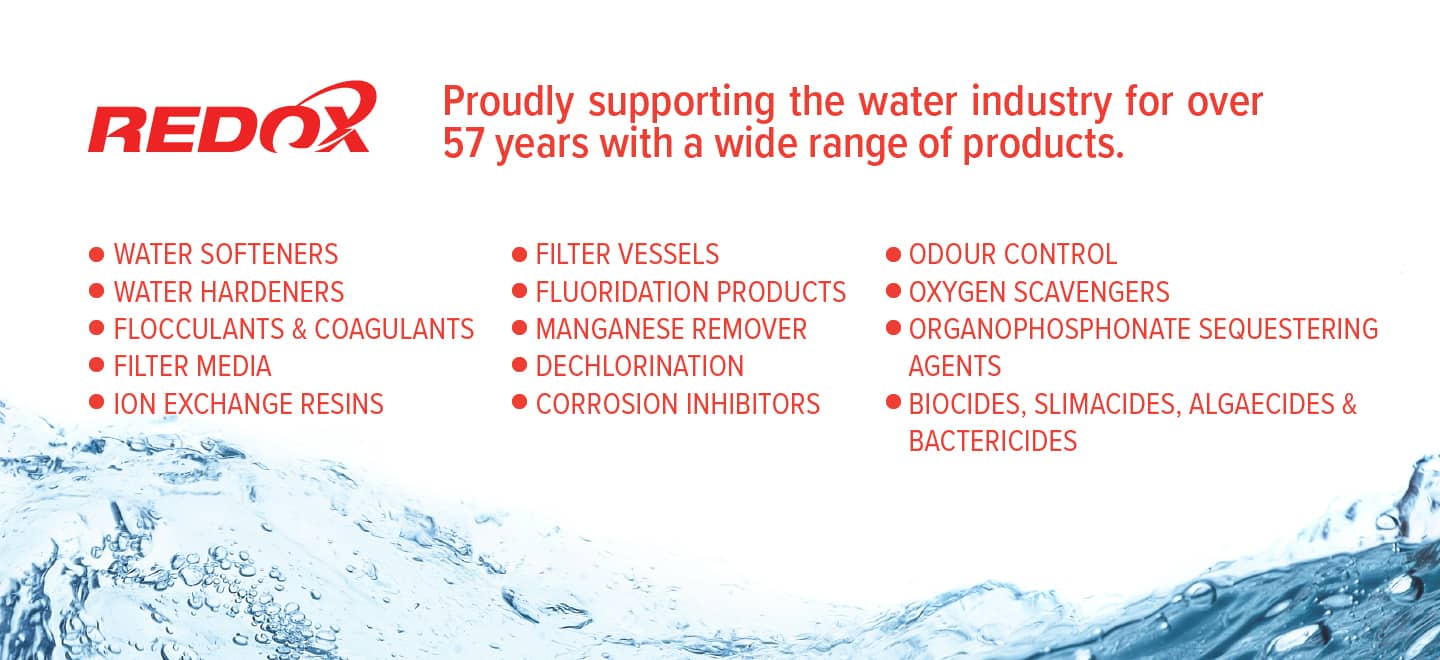 Our team will be at stand 64, and we look forward to seeing you there. Please come by and speak with one of our specialists about how Redox can become an integral part of your sourcing strategy.
Ion Exchange is a reversible chemical reaction where dissolved ions are removed and replaced with other ions of the same/similar electrical charge. This mechanism is exploited by Ion Exchange Resins which are a medium that facilitates the exchange of ions between the resin beads and the water as it moves past inside a vessel.
This process can create ultra-pure water for use in the production of semiconductors, solar photovoltaics, pharmaceuticals, and flat panel displays for rinsing/cleaning and various other critical processes.
Food manufacturers can use Ion Exchange Resins in a host of ways, from purifying water to use as an ingredient to decolourising, demineralising, and removing taste and odours.
In power stations Ion Exchange Resins are used to demineralise feed water and treat condensate from the steam cycle. They are even utilised to recover various metals such as gold, uranium, and copper.
Possibly the widest use is as a pre-treatment step in various water treatment settings where they can work to improve the efficiency of Reverse Osmosis plants by lessening the load on filter membranes.
The two most commonly used Ion Exchange Resins are:
Cation resins, that exchange positively charged ions, such as sodium, for calcium,
Anion resins, which exchange negatively charged ions, such as chloride, for arsenic.
They are used to remove poisonous and hazardous metal ions from solution, replacing them with more innocuous ions, such as sodium and potassium.
How Ion Exchange Resins work
Water softening is the removal of calcium, magnesium, and certain other metal cations in hard water. The resulting soft water requires less soap for the same cleaning effort, as soap is not wasted bonding with calcium ions.
Soft water also extends the lifetime of plumbing by reducing or eliminating scale build-up in pipes and fittings.
Hard water is formed when water percolates through deposits of limestone, chalk or gypsum which are largely made up of calcium and magnesium carbonates, bicarbonates and sulphates. Iron oxides or iron carbonates can give a reddish-brown colouration to hard water deposits.
And while The World Health Organization says that "there does not appear to be any convincing evidence that water hardness causes adverse health effects in humans", there are studies that correlate domestic hard water usage with increased eczema in children.
They can help improve both access and quality by helping provide a higher level of filtration for drinking water in developing countries around the world.
Redox can supply it in 25L and 1000L bags.
Contact us today and speak to one of our industry specialists to find out more.
Our Partnering Manufacturers
Redox opens up a world of opportunity giving you access to more than 850 of the world's best manufacturers.