Skip to Content
Skip to Navigation
A surfactant, also known as a surface-active agent, is a substance that lowers the surface tension between two substances. It is a molecule that contains both hydrophilic (water-loving) and hydrophobic (water-hating) parts, allowing it to interact with water and oil.
Surfactants are a wide spectrum of products but are broadly classified as Anionic, Nonionic, Cationic or Amphoteric depending on whether the electrical charge is positive, negative or neutral on the hydrophilic head.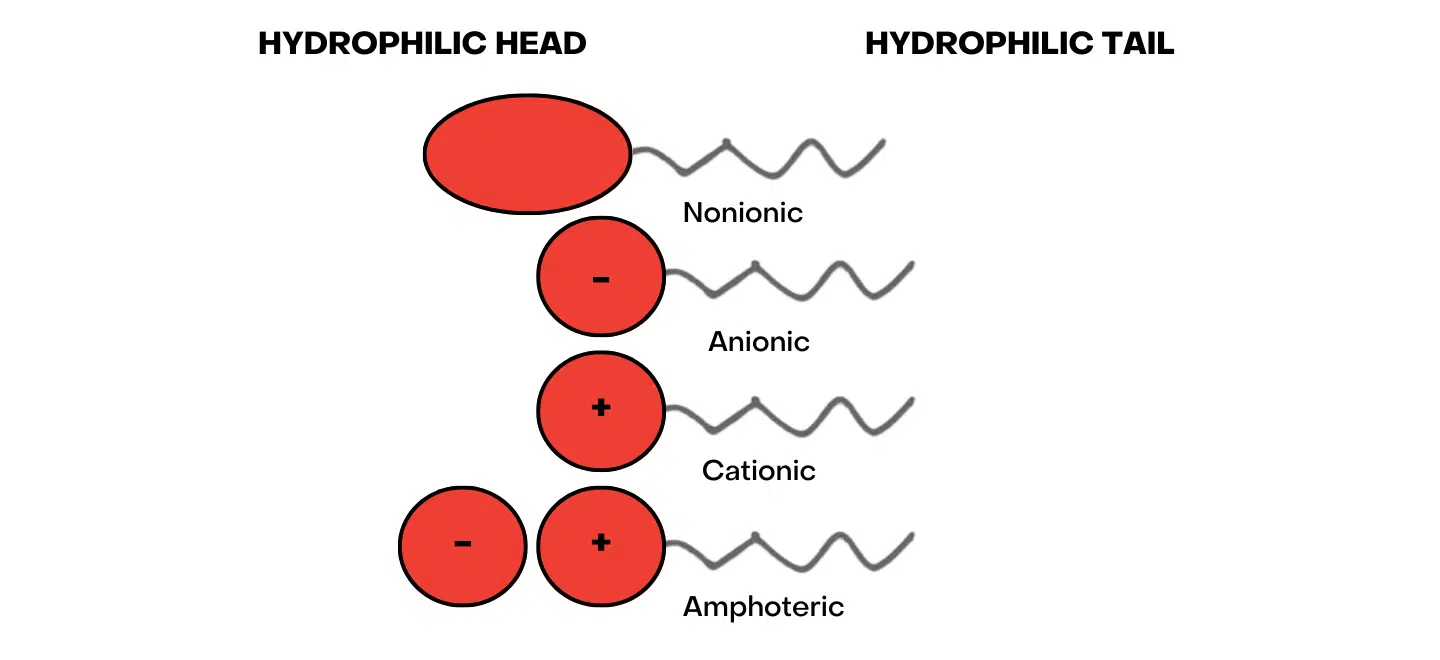 Surfactants are commonly used in cleaning products such as detergents, soaps, and shampoos. They can break down oils and dirt and help them mix with water for easier removal. They are also used in industrial processes such as oil recovery and in medical applications such as lung surfactants, which help maintain the structure of the lungs and prevent collapse.
Examples of surfactants include sodium lauryl sulphate, commonly found in household cleaning products and personal care items, and polysorbate 80, used in food, cosmetics, and pharmaceuticals.
Surfactants are used in a wide variety of products, including:
Detergents and cleaning products

: Laundry detergents, dishwashing liquids, all-purpose cleaners, and bathroom cleaners all contain surfactants that help to remove dirt, oil, and grease from surfaces.

Personal care products

: Shampoos, body washes, hand soaps, and toothpaste all contain surfactants that help to clean and remove oils from the skin and hair.

Cosmetics

: Makeup removers, facial cleansers, and body wash contain surfactants that help break down and remove makeup and other impurities.

Food and beverages

: Emulsifiers and stabilizers are surfactants used in food and beverage products to help mix ingredients that would not usually mix well, such as oil and water.

Agriculture

: Surfactants are used in agricultural products, such as herbicides and pesticides, to help them stick to plants and improve their effectiveness.

Petroleum

: Surfactants are used in the petroleum industry to improve oil and gas flow through pipelines and help recover oil from underground reservoirs.

Lubricants

: By adding surfactants to car engine lubricants, it becomes possible to prevent particles from adhering to engine parts, enabling the parts to move smoothly and maintain the proper functioning of the car.
Surfactants have several unique qualities that make them useful in a wide range of applications:
Surface tension reduction

: Surfactants have the ability to reduce the surface tension between two substances, such as water and oil. This allows the substances to mix more easily and enhances the ability of the surfactant to clean, emulsify, or disperse.

Amphiphilic nature

: This unique structure allows surfactants to interact with water and oil hydrophilic (water-loving) and hydrophobic (water-hating), essential for their cleaning use and emulsifying.

Self-assembly

: Surfactants can self-assemble into organized structures, such as micelles or bilayers, in certain conditions. This allows them to form stable emulsions, which are essential in creating many products such as lotions, creams, and paints.

Interfacial activity

: Surfactants are active at interfaces, such as the boundary between two liquids or a liquid and a solid. They can adsorb to the surface of a substance, which can change its surface properties, such as its wetting or adhesion behaviour.
Overall, these unique properties make surfactants extraordinarily versatile and valuable in a wide range of applications, from cleaning products and personal care items to industrial processes and medical applications.
Mint has been rumoured to have been in use across Japan for more than 2000 years, alleviating fever symptoms, headaches and re-energising both the body and the mind. In the west, we've come to appreciate these same effects.
Mentha Arvensis Botanica, typically known as Mint, Corn Mint, Wild Mint, and Japanese Mint, is used to produce Menthol Crystals. Menthol Crystals are a waxy substance and a solid component of Mint Oil. The Mint Essential Oil is derived from the Mint leaf through distillation.
This Mint Essential Oil is then frozen at -22 degrees Celsius. The freezing of the Essential Oil causes it to crystalise, forming Menthol Crystals.
They are similar to Mint Essential Oil because they offer the same wide range of benefits. On the other hand, they are highly concentrated, and only small amounts are required for effective relief.
Menthol may help alleviate symptoms of sickness – 
easier breathing, 

nasal congestion relief, 

soothing

 

sore throats, coughs, and sinus discomforts, 

immunity support, and 

stabilisation of emotions
What Industries are using them?
The worldwide Menthol Crystal market is growing at a tremendous rate, with its highest growth rates in recent years, and it is anticipated to surge even more between 2020 and 2027.
Their uses and benefits:
In Personal Care and Cosmetics
It is a critical ingredient in skin and beauty products and carrier oils.

Its minty, fresh scent is frequently used in fragrances, lotions, and colognes.

It helps relieve skin irritations, soothe itchy and dry skin, and revitalise and rejuvenate the skin.

It helps to nourish and strengthen the hair and promote healthy hair development.
For the Pharmaceutical Industry
commonly used to help with digestive and stomach disorders, 

may relieve nausea sensations, reduce discomfort, and 

can reduce fever and headaches, among other things.
In Aromatherapy
Menthol Crystals from Redox
Our Menthol Crystals meet rigorous standards while retaining nature's genuine essence and taste. 
They are available in various packing sizes, including 25kgs fibre drums and come in multiple qualities we routinely supply to our customers around the globe.
Redox is in a great position to meet and exceed your expectations. Contact one of our specialists or fill in the below form to learn how Redox can become an integral part of your sourcing strategy.
Lactic Acid is a versatile material found in a variety of innovative products that was first discovered by the Swedish chemist Carl Wilhelm Scheele in 1780 and produced commercially by Charles E. Avery in 1881. 
It's Applications in Industry?
Lactic Acid is a naturally occurring organic acid utilised in various industries, such as cosmetics, pharmaceuticals, chemicals, food, and, most recently, medical industries.
In the food industry, which accounts for a large portion of the demand (35%), it has several uses:
It acts as an acidifier for bread,
prevents the development of harmful bacteria in pickles, relishes, salad dressings,
adds a mild-tasting sourness to beverages and candy,
In dairy products, it is used to prevent fermentation and,
It is an essential ingredient in fermented foods, like yoghurt, butter, and canned vegetables.
However, it is also used as an antimicrobial in cleaning products, has applications in the leather tanning industry, in descaling processes, in the textile industry as a mordant (fixative) for dyeing, and can be converted to ethanol, propylene glycol, and acrylic polymers in the chemical industry.
Although it's been commercially available for a long time, it is only in recent decades that new uses have resulted in a tremendous increase in demand.
For example, its an essential building block in producing a range of new and innovative bioplastics, PLA or Polylactic Acid – the new generation of biodegradable polymers.
The use of Lactic Acid in manufacturing environmentally friendly, green solvents is another area for significant potential growth. Using it as a green solvent enriches the diversity and versatility of bio-based green solvents and could offer an effective means for designing environmentally benign synthetic systems.
Its application and innovative usefulness seem ever-growing, and in 2010, it was included in a report issued by the U.S. Department of Energy on chemicals that are considered potential building blocks for the future.
Lactic Acid from Redox
Redox is proud to work with leading manufacturers of Lactic Acid and Lactates globally and can create solutions for all customer requirements.
Redox supplies Lactic Acid in the Australian, New Zealand, Malaysian, and North American markets and is available in various packing sizes. These include 25kg carboys, 250kg steel drums and 1200kg IBCs.
We offer it in a range of varied strengths, with a powder form also available for specific applications. Our Lactic Acid conforms to the Food Chemicals Codex (FCC), ensuring our product's overall safety and integrity.
Contact one of our experts to discover how Redox can be an essential element of your sourcing strategy.
The development of surfactants based on carbohydrates and oils is an exciting expression of the 'green chemistry' that led to new surfactant classes: namely, alkyl polyglucoside (APG).
It was first developed in 1893 by German Chemist Emil Fischer via a process that relied on the acid-catalyzed reaction of dextrose with fatty alcohols. Following a costly and time-consuming research and development process, Henkel successfully created an industrial production method for APG.
Alkyl polyglucoside is a mild, naturally derived non-ionic 'Green' surfactant in liquid form and is entirely biodegradable, safe for humans and the natural environment. 
Some Ingredient Highlights
Produced from natural, renewable resources

Non-ionic surfactant, compatible with all surfactant classes

Readily biodegradable

Very cost-effective

Extremely mild surfactant/emulsifier

Excellent emulsifying properties

Excellent skin compatibility

Outstanding foam behaviour with surfactants

Excellent cleaning performance
APG 
Applications in Industry
?
The use cases for Alkyl polyglucoside are innumerable, with an estimated global market worth $1.1B and projected to increase over 8% during 2021 – 2031.
APG is typically used to enhance the formation of foams in detergents (surface cleaners, dishwashing and laundry detergents), but because it's biodegradable and safe for sensitive skin, it has also found multiple applications in the personal care sector, including:
Bath Products

Cleansers & Wipes

Oral Care

Cosmetics
But its uses extend beyond these; 
APG can be used in fire equipment as a foaming agent, 

in the paper industry, it improves the softness of paper, 

As a fabric softener and dyeing auxiliaries in the textile industry, 

it can even be used as a gel, lubricant and wetting agent.
APG from Redox
Redox's Alkyl polyglucoside is available in various packing sizes, including drum and IBC configurations, coming in a range of INCI classifications:
Caprylyl/ Capryl Glucoside

Caprylyl/ Capryl Glucoside

Lauryl Glucoside

Decyl Glucoside
With activity levels ranging from 50% to 70%.
Presently quotations from our manufacturing partners are valid for two days max due mainly to the fact that fatty alcohols are being diverted to make biodiesel. 
Biofuels have become more economically attractive due to recent skyrocketing crude oil prices, so it's crucial you work with a supplier that can secure consistent quality; Redox is in an excellent position to fulfil and exceed your expectations. 
Contact one of our experts to discover how Redox can be an essential element of your sourcing strategy.
In 1814 a German scientist named Friedrich Ferdinand Runge developed a method to extract pure cocoa powder into its most potent form. The result was a white powder containing both fat molecules (known as acids) and sugars, which create energy when digested in our body. Today that substance (caffeine) is easily extracted and used to make various products we consume daily.
Caffeine and its numerous uses
We all know that caffeine is found in our daily coffees and teas; some might also be familiar with its move into the energy drinks and the sports performance markets. The reason it has been so effective and popular in these products is that caffeine keeps us awake, alert, and active whenever a little more energy is needed.
A lesser but more recent use case is caffeine in hair care products. Caffeine boosts hair growth by stimulating the hair roots. Haircare products with caffeine also strengthen the hair itself and make it more manageable on a day to day basis.
And it's not just used in women's hair products. Many men face early hair loss due to the effects of the male hormone dihydrotestosterone (DHT), which acts on susceptible hair follicles. Caffeine penetrates the hair roots and stimulates them, delaying or subverting male pattern baldness.
Whether it's brewed from an espresso, downed in sweet tea, savoured in chocolate or consumed in cola, caffeine is a mild stimulant to the central nervous system that has become a standard fixture in everyday life.
Synthetic v Natural Caffeine
These days the majority of the caffeine used in the market is synthetically derived as it is more cost effective to produce than the natural manufacturing process. Caffeine is found naturally in plants that humans have been consuming for thousands of years such as fruit, leaves, coffee beans, cacao, and guarana plants.
Caffeine: did you know?
Here are some fascinating facts about caffeine to consider:
Coffee, soft drinks, and tea account for 97% of beverage caffeine consumed in the United States, with coffee accounting for the most significant proportion.
Studies suggest that it can improve mood and concentration, sharpen your focus, and increase lifespan.
Caffeine has been shown to enhance physical performance by 3%. Aside from telling your brain it's not tired, caffeine improves calcium release in our muscles, allowing them to work harder.
How can we help?
Working with a supplier that can guarantee consistent quality is critical; Redox is in a great position to meet and exceed your expectations.
We offer both synthetic and naturally derived sources of caffeine across all regions. The supply of this item has been challenging for the past couple of years and requires a lot of planning to ensure continuity of supply. To avoid disruptions, Redox encourages its customers to plan ahead assuming long lead times than in the past.
Contact one of our specialists to learn how Redox can be an integral part of your sourcing strategy.
Glycerine, Its name comes from the Greek word Glykys, meaning sweet, but this once considered insignificant product sprung from less humble beginnings. 
Glycerine is a trihydric Sugar Alcohol (polyol) that presents as a colourless, odourless, viscous and slightly sweet liquid. It is commonly used as –
• A sweetener, to make medicine more palatable
• A Humectant, to keep foods moist
• A moisturiser, to keep skin supple
• A solvent, to carry flavours/colours and to dissolve grime
• A plasticiser, to improve texture in, icing/frosting and confectionary
• A lubricant, to maintain the machinery that manufactures surface coatings, resins, paper, rubber, plastics and urethane polymers.
Let's dig a little deeper shall we.
In the beginning…
Glycerine was first synthesised in the late 1700's by soap manufacturers but at the time, it was considered an economically insignificant product. In 1846 Nitro-glycerine is developed by Ascanio Sobrero by treating glycerol with a mixture of nitric and sulphuric acid. Then in 1866, a Swedish chemist named Alfred Nobel developed Dynamite, an improvement of nitro-glycerine.
Feats of engineering such as the Panama Canal and Central Pacific Railroad would not have been possible without dynamite. Suddenly, Glycerine was no longer considered an economically insignificant product.
From economically insignificant to a necessity.
Glycerine is now produced on a much larger commercial scale by hydrolysis or transesterification of vegetable oil, which produces fatty acids, soap noodles, or Biodiesel whilst generating crude glycerine as the by-product.
Crude glycerine is further refined by vacuum distillation and bleaching with activated carbon to produce a 99.7% pure pharmaceutical grade material that is safe for human consumption, and is a necessary component in a variety of household products, most notably food, cleaning agents and toiletries.
And because Glycerine is a humectant, it is commonly used in skin care products with other types of moisturizing agents, to trap the moisture that it then draws into the skin.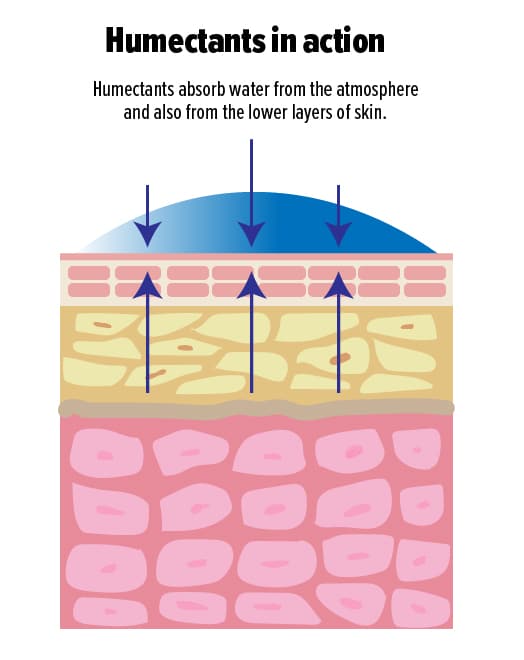 According to a 2016 study, Glycerine is "the most effective humectant" in comparison with numerous others.
Where can I get it?
Redox supplies thousands of tonnes of Glycerine annually to customers based in New Zealand, Australia, Malaysia and USA, including to some well-known multinational brands whose everyday products are likely sitting at home in your Kitchen, Bathroom, or Laundry.
Want to know more? Contact one of our industry specialists today and ask them about Glycerine.
Found naturally in green tea, the commercial grade Phenoxyethanol is synthetically produced in a laboratory creating what's termed a "nature identical". 
Introduced in the 1950s, it has had a long history of safe use as a cosmetic preservative. In recent years, the use of phenoxye­thanol has expanded due to its low sensitization potential and global approval.
Chemically known as a glycol ether which means it is a solvent, Phenoxyethanol is a preservative used in many cosmetics and personal care products. You probably have a cabinet full of products containing this ingredient in your home, whether you know it or not. It's also used as an anti-bacterial in detergents and as a stabilizer in perfumes.
Phenoxyethanol doesn't react with other ingredients, air or light; this kind of stability makes it an especially effective preservative.
You find it being used in products such as:
• Lotions,
• Shampoo and conditioner,
• Skincare,
• Perfumes
However more recently it is also being used to manufacture antibacterial hand soaps that are being sold to local department stores.
You may have heard of concerned around this ingredient because there's quite a bit of controversy about its safety, especially online. Almost all of the studies that have found significant negative health impacts are based on full-strength or high-dose exposures. Undiluted Phenoxyethanol, is never used in skincare or cosmetics, in reality exposures are quite small. Hence why it's approved at levels up to 1%. It's all about the final formulation.
In the previous 12 months, Redox has sold 184,800 kg of Phenoxyethanol into the USA and 11,600 kg into Australia.
If you'd like to know more, please contact one of our industry specialists today.
Sodium Lauryl Ether Sulphate (SLES) continues to be the darling of manufacturers of household products because it's inexpensive and an effective foam builder, helping to produce the bubbles that consumers associate with greater cleaning power.
SLES is an anionic surfactant with excellent emulsification and foamability capabilities making it widely used in rinse off products. Surfactants are used in cleaning products because they reduce surface tension, helping to wash away oil and grease.
Consumers often confuse SLS (Sodium Lauryl Sulphate) with SLES. But where SLS has been linked to cases of skin irritation and other skin conditions such as dermatitis, SLES is a safer and less harsh product often produced from palm kernel oil or coconut oil.
Common applications include personal care and home care products like Shampoo, Bubble Bath, Shower Gel, Face Wash, Dish Wash, Liquid Detergent, Hand Wash and even Toothpaste.
By 2024 the market size for SLES is expected to surpass USD 1.5 billion. This is primarily attributed to increased demand for personal care products throughout the globe, especially in developing nations.
Redox can supply SLES in variety of packaging including 170kg drums and 1100kg IBC and can also be sourced in 220kg drums and flexitanks. We can supply to customers across Australian, New Zealand and the United States.
If you'd like to know more, please contact one of our specialists today.
Contact Dermatitis or skin irritation is a common problem that afflicts many and a typical cause can be hidden inside your skin care products.
Answering the call for a milder and more thoughtful alternative are the range of Amphoacetates which can serve as a mild and gentle surfactant in a large range of personal care applications. They demonstrate high foaming properties and perform as an effective conditioning agent that helps product glide smoothly on the skin. Amphoacetates show low irritation to the skin and eyes and are often favoured as a mild alternative to sodium lauryl sulphate (SLS).
These sulphate-free surfactants are often coconut derived with the most common types being:
• Sodium Cocoamphoacetate,
• Disodium Cocoamphoacetate,
• Sodium Lauroamphoacetate.
There are a vast range of products that can employ Amphoacetates including body wash, shampoo, face cleansers, liquid hand soap, shaving cream and baby products, as well as being used as a thickener in household detergents.
A range of Amphoacetates are available from Redox in a variety of grades and packaging options including 200kg drums or 1000kg IBCs.
If you'd like to know more, please contact one of our industry specialists today.
Our Partnering Manufacturers
Redox opens up a world of opportunity giving you access to more than 940 of the world's best manufacturers.