Not long after, French chemist Nicolas Leblanc produced sodium carbonate in 1791; pharmacist Valentin Rose the Younger discovered Sodium Bicarbonate in 1801. Neither Leblanc nor Younger could have imagined their discoveries' impact on future generations.
How is it made, or where do we find it? 
Sodium Bicarbonate is generally synthetically manufactured using the Solvay or the Trona Process.
The Solvay process is an industrial method used to produce Sodium Bicarbonate, commonly known as baking soda. The Solvay process is the reaction of Sodium Chloride, ammonia, and carbon dioxide in water. 
Alternatively, the Trona process converts naturally formed/mined soda ash into bicarb.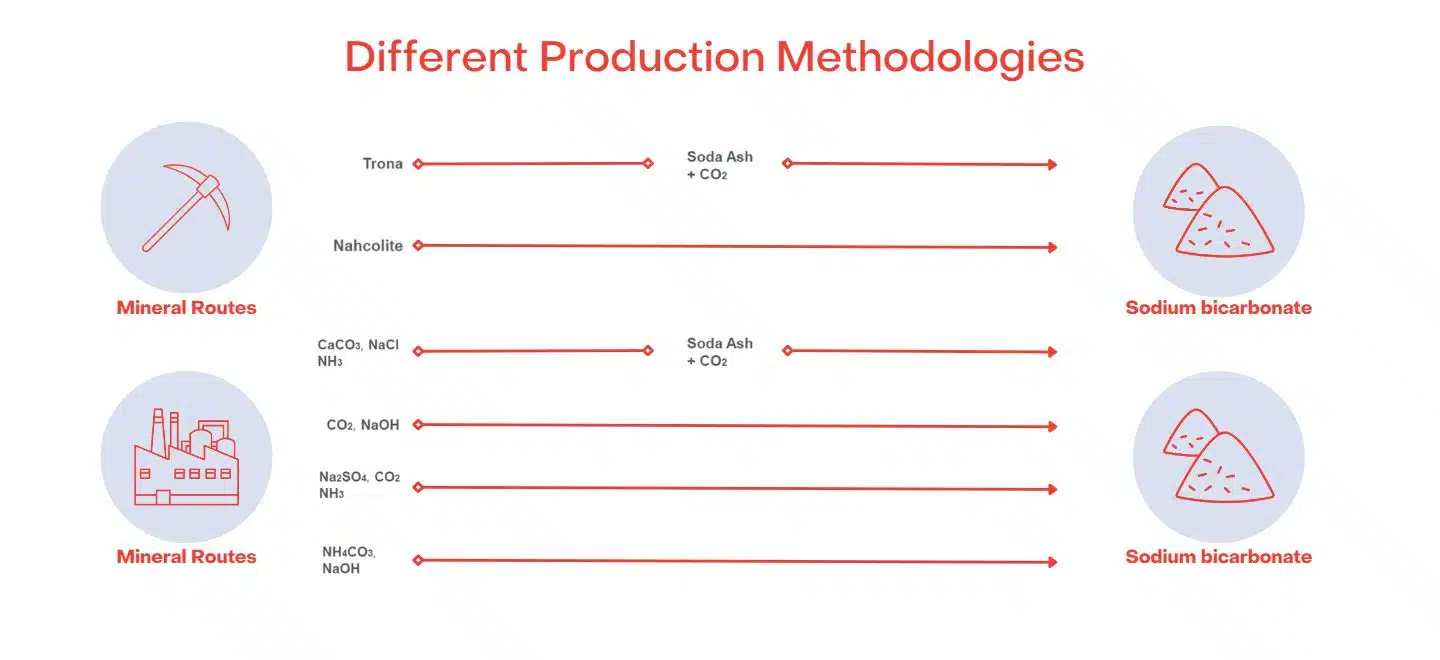 However, it can also be found naturally occurring in evaporated lake basins worldwide. The largest commercially viable source is Natural Soda in Colorado, USA, which has full organic certification.
Different uses of Sodium Bicarbonate in the food & beverage industry
The flexibility of Sodium Bicarbonate is an undeniable asset for many industries, none more so than the food and beverage industry. 
In baked goods, it acts as a leavening agent that produces carbon dioxide when combined with an acidic ingredient such as vinegar or lemon juice. This causes the dough to rise, creating lighter and fluffier baked goods like cakes and muffins. Not only that, Sodium Bicarbonate can also be used to make carbonated beverages like sodas and sparkling waters by dissolving it into water. 
The dissolved sodium bicarbonate can then be added to other ingredients like flavourings, syrups, and colourings to create a refreshingly fizzy drink. 
Lastly, Sodium Bicarbonate can also be used to tenderise meats for marinades or sauces, as its alkaline nature helps break down tough fibres in the meat's muscles.
Sodium Bicarbonate's application in animal feed
Sodium bicarbonate is a vital ingredient in animal feed due to its numerous benefits. 
It serves as an excellent source of electrolytes essential for healthy bodily functions. It also helps to maintain proper pH levels in the body, which improves digestion and increases nutrient uptake. 
In addition, Sodium Bicarbonate can help reduce the build-up of lactic acid in the muscles, allowing animals to perform better during strenuous activity. Besides that, it can also act as a buffer against digestive upsets such as acidosis and scours and protect against microbial toxins. 
All these benefits make Sodium Bicarbonate an essential ingredient in animal feed for optimum health and performance.
But its utility goes beyond the Food and Feed industries. For example:
It's commonly used in water treatment and swimming pools for pH adjustment.

Being an alkali, it assists in removing stains in cleaning and is used in laundry and dish detergents.

Bicarb is hygroscopic, meaning it absorbs moisture and hence odours.

Finely powdered bicarb is injected into industrial exhaust stacks to de-sulphurise flue gas before it can escape into the atmosphere.

Mix it with a bit of water to make a paste, and it relieves insect bites on your skin.

Calms indigestion and heartburn.

It's the abrasive in toothpaste (also helps to remove odours in your breath).
How can we help you?
In 2022, despite the unprecedented supply chain hurdles of a global pandemic, Redox successfully distributed Sodium Bicarbonate across Australia and New Zealand to meet growing demands in both countries and Malaysia.
Redox's Sodium Bicarbonate is available in various packing sizes, including 25kg bags and bulker bags, coming in a range of food, feed and industrial grades and conforming to FAMI-QS and Food Safety Regulation.
Contact one of our experts to discover how Redox can be essential to your sourcing strategy.