As an agent for Fumeipharm across Australia, New Zealand and Malaysia, Redox distributes an extensive range of waxes suitable for applications within the personal care, food and pharmaceutical industries. From natural beeswax to non-ionic emulsifying wax, we have a solution for your specific needs.
Sourced from around the world and each with a different means of extracting or processing wax, our wax products have been specially designed to be used for:
Personal Care: Skin care (lotion, emulsion and creams), colour cosmetics (lip stick, lip care, eyebrow pencils, eye liners and pressed powders), hair care and styling, and body care (depilatory products).
Food: Glazing and coating, flavour carriers and gum bases.
Pharmaceutical: Pharmaceutical ointment base, soft capsule suspending agent, excipient in the finished product, pharmaceutical ointment agent and pharmaceutical pill protection.
Due to diversity of our product portfolio and innovative production processes, our range allows manufacturers to creatively formulate their products to better attend to their consumers needs, enabling them to gain a competitive advantage in their markets. With both natural and synthetic solutions available, our wax products include: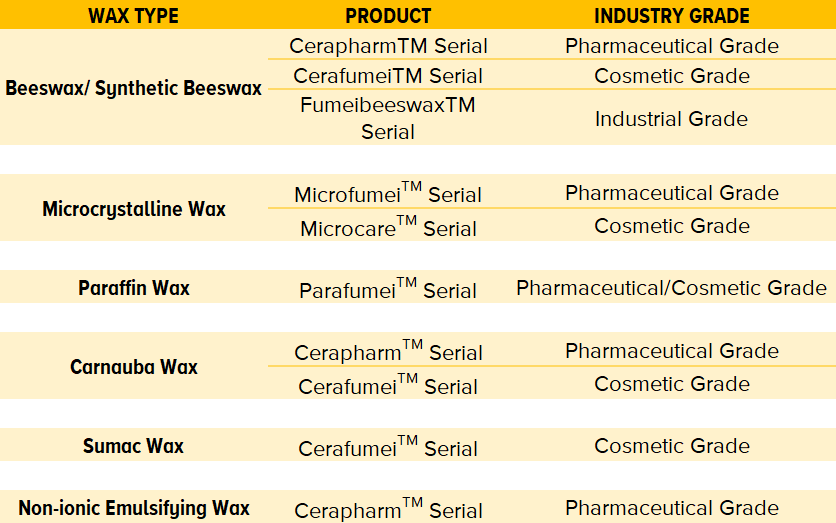 Our manufacturing partner Fumeipharm, known as Fumei Bee, have held a high standard in their production since 1981, and as such are currently the only Goods Manufacturing Practices (GMP) certified wax plant to produce pharmaceutical excipients. Along with their production capacity of over 20,000mt of waxes, their vast experience allows them to produce customised waxes to improve efficiency and ensure price competitiveness – the competitive advantage our clients demand.
For more information on our wax products and how they can be utilised in your next formulation, contact one of our industry specialists.