Skip to Content
Skip to Navigation
Distributed by Redox, Acetone is a seemingly unassuming chemical with a distinctive sweet and pungent odour, is a true chameleon in the world of chemistry. Also known as propanone, this volatile, colourless organic compound has earned its versatile stripes, boasting various applications across various industries. As we delve into the secrets of Acetone, you'll discover its unique properties and understand why it's a beloved chemical in fields as diverse as cosmetics, pharmaceuticals, and heavy industry.
Acetone's simplicity is part of its allure. This unassuming compound consists of just three carbon (C) atoms, six hydrogen (H) atoms, and one oxygen (O) atom, resulting in the chemical formula C3H6O. 
It falls under the ketone family, characterised by the distinctive carbonyl group (C=O) within its molecular structure.
Unveiling Its Physical Characteristics
You might know Acetone by its distinct characteristics:
Clear and Colourless:

 At room temperature, it's a clear and colourless liquid, the definition of unobtrusive.

Sweetly Pungent:

 Its odour, often described as sweet yet pungent, makes it easily recognisable.

Low Boiling Point:

 Acetone boasts a low boiling point, evaporating swiftly at 56 degrees Celsius (133 degrees Fahrenheit), leaving behind its characteristic scent.

Miscible with Water:

 This liquid readily mingles with water and a wide array of organic solvents, making it a remarkable and adaptable solvent in its own right.
Applications: Where Acetone Truly Shines
Solvent Extraordinaire:

 Its primary role is to be a potent solvent in industrial applications, capable of dissolving various organic compounds. Acetone is the go-to solution for numerous industries, from paints and varnishes to adhesives and synthetic fibres like acrylics and polyester.

Nail Polish's Best Friend:

 If you've ever marvelled at how nail polish vanishes quickly, you have Acetone to thank. It's a crucial ingredient in nail polish removers, making it a staple in the world of cosmetics.

Chemical Chameleon:

 Acetone is not content, being just a solvent. It also plays a central role as an intermediate compound in producing various chemicals, including methyl methacrylate, bisphenol-A, and aldol. These compounds are essential in creating plastics, resins, and more.

Industrial Cleaning Guru:

 Acetone is a star cleaner and degreaser in heavy industries. Its quick evaporation and dissolving properties make it a valuable asset for cleaning machinery and equipment.

Pharmaceutical Foundations:

 You might not suspect it, but Acetone plays a part in producing certain pharmaceuticals. It can even be an excipient in drug formulations.

Beauty and Cosmetics: 

Some cosmetic and personal care products benefit from a touch of Acetone as a degreasing or cleaning agent.

Lab Partner:

 In the realm of laboratories, Acetone is the trusty sidekick of researchers. It serves as a general-purpose solvent and comes in handy for cleaning lab glassware.
Environmental Footprint
With its rapid evaporation, Acetone doesn't just disappear into thin air; it contributes to air quality regulations. Managing and disposing of Acetone is essential to prevent environmental contamination.
Acetone, a humble compound with a world of versatility, offers a cornucopia of benefits across industries. As a solvent, it's unparalleled in its efficacy. Its rapid evaporation and compatibility with other solvents make it valuable in laboratories and industrial applications. From cosmetics to pharmaceuticals, Acetone's reach is boundless. However, its flammability calls for cautious handling. 
With the proper precautions, this versatile compound can continue to shine in myriad applications, proving that, sometimes, unassuming substances play the most remarkable roles.
What Influences the Cost of Acetone?
Acetone isn't just a versatile compound; it's also subject to price fluctuations influenced by several factors. Various elements shape the cost of Acetone, each playing a unique role in determining its market value.
Raw Material Prices: The cost of raw materials, such as isopropyl alcohol (IPA) and cumene, used in acetone production can significantly impact its price. Fluctuations in the prices of these feedstocks directly affect the overall cost of Acetone.
Production Process Efficiency: Efficient production processes can lead to cost reductions, thus impacting the price
How Can We Help?
At Redox, we have established dynamic, solid relationships with clients and suppliers due to our commitment to quality assurance and attention to material handling processes. Constant review and management of all our changing processes ensures we maintain best business practices while acting in accordance with the relevant industry standards.
To discuss how we can supply Acetone safely and at a competitive price that ensures you are ahead of your market, contact us today and explore how we can become an invaluable partner in your procurement strategy.
Distributed by Redox, Boric Acid is an often unsung hero in industrial chemistry and has emerged as a versatile and indispensable compound. Its utility ranges from preserving wood to influencing nuclear reactions, and its significance extends to environmental conservation.
Below, we delve into the multi-faceted world of Boric Acid, uncovering its industrial applications, pricing determinants, ecological advantages, and emerging innovations.
A Versatile Workhorse
Boric Acid, a naturally occurring compound of boron, hydrogen, and oxygen, possesses a remarkable versatility. Due to its unique properties, it has secured its place in various industries. Here are some of the notable applications:
1. Wood Preservation: Boric Acid is crucial in preserving wood, safeguarding timber against rot and decay. Its ability to prevent the growth of fungi and insects has made it a sustainable alternative to more toxic wood treatments.
2. Nuclear Energy: Boric Acid is essential for reactor cooling in the nuclear industry. It controls nuclear reactions by absorbing excess neutrons, ensuring safety and efficiency in power plants.
3. Flame Retardants: Boric Acid is a fire retardant in products like mattresses, upholstery, and textiles. It hinders combustion and slows down the spread of flames, improving safety.
4. Eyewash Solutions:  In the healthcare sector, it is a crucial component of eyewash solutions used to treat eye irritation or chemical exposure.
5. Lubricants and Corrosion Inhibitors: It is employed as a lubricant additive and corrosion inhibitor, extending the life of machinery and equipment.
Pricing Factors and Market Dynamics
Cost are influenced by several factors. Primarily, the availability of boron-rich minerals, from which it is derived, plays a significant role. Global supply and demand trends, influenced by agriculture, ceramics, and electronics industries, also impact pricing. Geopolitical factors and production regulations in major producing countries, including Turkey and the United States, contribute to market volatility.
In recent years, an increase in demand, particularly from electronics and renewable energy sectors, has placed upward pressure on prices. As industries strive to reduce their environmental footprint, the demand for boric acid's applications in sustainable practices has risen, further influencing its cost.
Growing demand for the below applications around the world has had a direct impact on the growth of the Boric Acid
Glass

Ceramics

Pharmaceutical

Pesticide

Fertiliser

Textile Industry

Others
Future Market Insights recently published its findings, concluding the global boric acid market size is anticipated to increase from US$ 840.7 million in 2022 to US$ 1,409 million by 2032, exhibiting a CAGR of 5.3% during the forecast period.
Environmental Benefits and Sustainability
Boric Acid is not only prized for its industrial utility but also for its environmental advantages. Its non-toxic and low-impact properties make it an environmentally responsible choice in various applications, particularly wood preservation and flame retardants. 
The chemical's ability to enhance the longevity of products and reduce the need for toxic alternatives aligns with modern sustainability goals. As industries become more eco-conscious, Boric Acid has emerged as a green alternative to conventional, more harmful chemicals.
Innovations on the Horizon
The chemical industry, always pursuing safer, more efficient, and environmentally friendly solutions, is exploring innovative uses for Boric Acid. Researchers are investigating its potential in advanced battery technologies to improve lithium-ion batteries' energy storage and sustainability.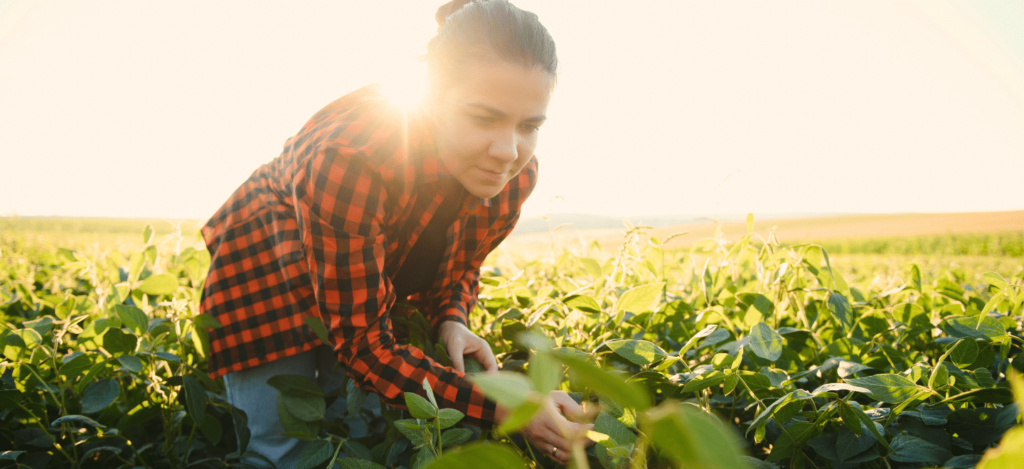 Moreover, Boric Acid's role in improving crop yields and pest resistance in agriculture is an exciting avenue for future exploration.
How Can We Help?
In the ever-evolving landscape of industrial chemistry, Boric Acid has transformed from a hidden gem to a prized asset across various industries. 
Its unique properties and eco-friendly advantages make it the go-to choice as sustainability and efficiency become paramount. The journey from an industrial staple to an environmentally responsible option underscores its indispensable role in shaping a cleaner and safer world.
Redox offers Boric Acid in various specs: from 25kg film bags to 1mt bulk bags. Contact us today to explore how our Boric Acid solutions can contribute to your success. 
Redox has commenced the installation of electric chargers at its sites starting with 12 units at its head office in Sydney, to help promote the adoption of zero-emission vehicles and better utilise the renewable solar energy that the company produces.
With the growing adoption of zero-emission vehicles in Australia, accounting for 8% of new car sales, we have taken a progressive step by introducing electric vehicle (EV) options for our employees. This decision empowers our workforce to actively contribute to decarbonisation efforts and reaffirms our position as an industry leader.
The charging infrastructure overlays our existing significant investment in our sites, equipping them with photovoltaic solar generation systems with a total capacity of 600kW. We are immensely proud that our commitment to practical initiatives contributed to our recent recognition with the prestigious Silver medal sustainability rating from Ecovadis in 2023.
We plan to gradually expand this infrastructure to other Redox-operated sites, making sustainable transportation solutions more accessible.
As the seasons change and winter approaches, planning ahead for your agricultural needs is crucial. Controlling insect and pests on your valuable crops, such as scale, mites, and codling moths, is paramount. That's why now is the perfect time to consider Ovispray for your winter oil spraying program.
At Redox, we understand the challenges growers face in maintaining healthy and pest-free crops. We recommend Ovispray as your go-to solution for effective pest control. Ovispray is an APVMA-approved Agricultural spraying oil designed to combat insect pests that threaten your crops during winter.
Ovispray is registered for use on various crops, including,
Grapes, 

Pome Fruit, 

Stone Fruit, 

Avocado, 

Custard Apples, 

Kiwifruit, 

Mango, 

Citrus, and 

ornamentals. 
It offers versatile benefits beyond winter oil spraying. This remarkable product can also serve as a wetter/penetrant for herbicide applications, boosting their efficacy. Furthermore, when mixed with fungicides and insecticides, Ovispray enhances its performance, giving you even greater protection against harmful pathogens and pests.
How can we help
As the exclusive distributor for Ovispray in Australia, we offer it in 200L drums and 1000L IBCs, ensuring you have an adequate supply for your agricultural operations. With an active ingredient of 800 g/L petroleum oil, Ovispray delivers consistent and reliable results, safeguarding your crops throughout the winter season.
Make sure your crops are protected from insect and pests this winter. 
We understand that every crop is unique, and our team is committed to tailoring solutions that meet your requirements. Contact your dedicated Redox representative or fill in the below form and one of our team members will get in touch.
While most people may know hydrogen peroxide for its use in hair bleaching, this versatile compound has much more to offer. As a green and sustainable oxidizing agent, it finds its applications across a broad range of industries. But can hydrogen peroxide's environmentally friendly properties make it an important component in the transition towards sustainability by replacing less eco-friendly chemicals?
Hydrogen peroxide, a colourless liquid compound of hydrogen and oxygen with the chemical formula H2O2, is an increasingly in-demand and versatile chemical known for over two centuries. Unlike many chemicals, hydrogen peroxide is entirely natural and occurs in rainwater, snow, and even the human body. It decomposes to only water and oxygen, making it an environmentally friendly product. This unique property makes it valuable in times of increased environmental awareness. Hydrogen peroxide is not only used for hair bleaching but has a disinfectant and antibacterial effect that eliminates odours, making it a cleaning agent for home and wounds. It's in high demand across industrial sectors, including paper, food, pharmaceutical, cosmetics, and electronics, and is used in water treatment, chemical syntheses, and rocket fuel.
Its effectiveness can be enhanced when combined with other substances such as iron ions, UV radiation, or ozone.
Why is Hydrogen peroxide sustainable?
Hydrogen peroxide is a chemical with a distinctive ability to decompose into two non-toxic substances, water and oxygen, once it has served its purpose. This makes it an exceptional chemical with minimal environmental impact and a sustainable alternative to other less eco-friendly chemicals that have long plagued our environment.
Hydrogen peroxide is fast becoming a popular choice in various applications, such as cleaning agents and disinfectants, where the need for safe and environmentally-friendly products has never been greater. Furthermore, it could replace other hazardous chemicals used in manufacturing processes, especially in the paper, food, and cosmetic industries.
Even in its manufacturing process, hydrogen peroxide can be produced using renewable energy sources, such as solar and wind power, making it even more sustainable. The autoxidation process used to produce hydrogen peroxide requires only hydrogen, oxygen, and water as raw materials, which are readily available and can be produced sustainably.
Its environmentally friendly nature makes it an excellent candidate for the much-needed transition towards sustainability, and with the ever-growing demand for greener alternatives, hydrogen peroxide is indeed a chemical for the future.
Common uses include
Hydrogen peroxide …
Is an eco-friendly disinfectant that treats and purifies both municipal and industrial wastewater, eliminating the need for harmful disinfectants.
Is used in paper and pulp industries, hydrogen peroxide is used as an efficient and environmentally compatible bleaching agent, and in paper recycling, it is used in a resource-efficient manner.
Eliminates bacteria from beverage containers, preserving the products' quality and increases their shelf life, even without refrigeration.
Serves as a feedstock in sustainable production processes such as HPPO and HPPG, which produce globally demanded materials like propylene oxide and propylene glycol.
Is used in launching and navigating satellites that gather valuable data for sustainable applications on our planet through Earth observation.
Cleans electronic components cost-effectively, generating no harmful waste products.
Aids in producing foam and insulating materials in a resource-saving way, which helps in energy conservation.
Is commonly used in the destruction of cyanide in gold mining, as it converts the cyanide into less harmful compounds, such as carbon dioxide and nitrogen.
Is used to recycle valuable materials like lithium from lithium-ion batteries.
How can we help?
Discover how Redox can be essential to your sourcing strategy by speaking with one of our experts. Fill out the form below to learn more and get started.
Critical minerals are metallic or non-metallic elements that are essential for modern technologies and low-emission applications, but their supply chains are at risk of disruption, which could have severe consequences for various industries. To mitigate these risks, it is crucial to understand the characteristics of critical minerals, the industries that rely on them, and the associated risks.
Redox's role in the critical mineral supply chain
Redox offers a diverse collection of chemicals and reagents utilized in the mining, processing, and refining of various minerals such as Lithium, Vanadium, and Rare Earth elements. We have partnered with renowned suppliers such as Kraton, whose Tall Oil Fatty Acid 'Sylfat' is considered the leading product in mineral separation. Our mining clients enjoy our broad range of products, along with our top-tier warehouse and distribution network, extensive market expertise, and unparalleled customer service.
What is a critical mineral?
Critical minerals are an essential component of our modern technologies, economies, and national security. They are used to manufacture a wide range of advanced technologies, including low-emission applications like electric vehicles, wind turbines, and solar panels, as well as everyday items like stainless steel and electronics.
Although there is a risk that critical mineral supply chains could be disrupted, it is important to remain positive and proactive in addressing potential challenges. By diversifying supply chains, investing in market development, and promoting sustainable mining practices, Australia can mitigate risks and ensure a stable supply of critical minerals for years.
An Overview of these Minerals
Each country develops its list of critical minerals based on the importance of specific minerals to their industries and evaluating supply risks. However, assessments of mineral criticality are influenced by market and political conditions at a particular time and are subject to change.
The Australian Government has identified 26 critical minerals by evaluating Australia's geological potential and global technology needs, especially those of partner countries. The list of Australia's vital minerals can be found in the 2022 Critical Mineral Strategy.
Australia's critical minerals sector is expanding to meet the increasing global demand for these strategic minerals. Australia is a top producer of several critical minerals, including lithium, rare earth, and zircon. The country is also discovering and developing more deposits of these minerals, as shown in the Australian Critical Minerals Map.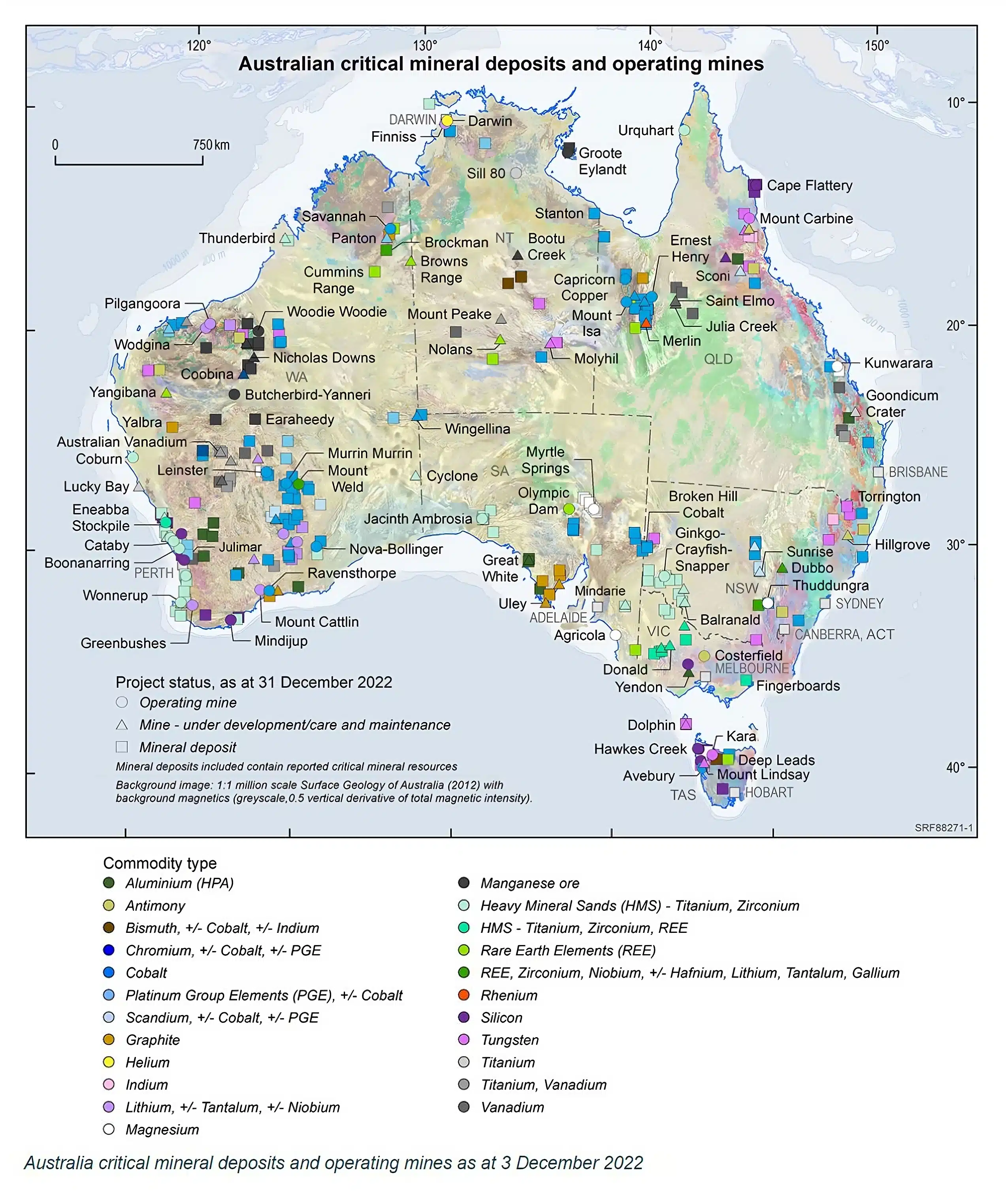 Australia's resources industry has expanded exploration and resource definition in response to the rising demand for critical minerals. Economic inventories of several critical minerals increased in Australia in 2021, including platinum group elements, scandium, vanadium, antimony, cobalt, and tantalum.
To conclude, critical minerals play a vital role in our daily lives, and their importance will only continue to grow as we transition towards a low-carbon economy. To ensure a stable supply of these minerals, it is crucial to diversify supply chains, invest in market development, and promote sustainable mining practices. 
As a global leader in critical minerals production, Australia has identified 26 critical minerals and is expanding its exploration and resource definition to meet the increasing global demand. By prioritizing the sustainable and responsible production of critical minerals, Australia can ensure their availability for future generations.
Produced from carbon-rich organic materials, activated carbon's superior performance as an adsorbent lends itself to a growing list of applications as environmental regulations continue to become more stringent.
Activated carbon is a game-changing adsorbent, revolutionising how industries tackle contaminants and unwanted particles in liquids or gases. Pollution control efforts are particularly taking advantage of its capabilities, with reports pointing towards an optimistic future – all thanks to the growing call for environmental solutions globally.
How is Activated Carbon being used in industry?
Activated carbon is an incredibly versatile compound that serves a range of diverse functions. 
From the granular medium traditionally used to trap pollutants from liquids and gases to 

pellets designed explicitly for tackling volatile organic compounds (VOCs) and Hydrogen Sulfide (H2S) in gas filtration, 

it even comes in powder form – which can be added directly into liquid or soil to absorb toxins easily. 
Its remarkable properties have enabled some incredible advancements across multiple industries.
While Activated carbon has become a powerful ally in multiple industries, from purifying potable and wastewater to cleaning out toxic gases from the air we breathe, it also plays an essential role in soil remediation by removing dangerous pollutants like PFAS and other organic compounds. 
Even beverages can benefit– with Activated carbon able to strip wine and juices of their unwanted colour or toxins, such as patulin found commonly in apple juice!
Natures renewable resource
Customers are increasingly turning to sustainable solutions – unlike other forms of activated carbon, coconut shells and wood are renewable resources, each with unique properties when it comes to removing impurities.
In particular coconut shells are an incredibly sustainable solution to global raw material needs. Renewable and accessible within six months, coconuts outshine common alternative materials such as coal or wood that can take millions of years and decades to form. Not only do coconut trees capture CO2 from the atmosphere, but their harvesting is a by-product of our food industry – making them earth-friendly and beneficial in other ways.
Using it to produce activated carbon prevents it from being wasted and potentially burnt as fuel. In fact, every part of the coconut has a use, and there is no waste. The water, meat, husk and shell are all used across various industries.
Recent market reports point to an optimistic future driven by demand for its environmental uses. With a heightened awareness surrounding eco-friendly products like coconut-based activated carbon, new possibilities present daily as we uncover just how powerful this substance truly is in the fight against pollution. 
How can we help?
Despite a range of competitor adsorbents available, activated carbon continues to lead the way across numerous applications. Thanks to solid growth prospects in key regions and industries, demand for this versatile material is set to remain healthy in the coming years. As a result, companies providing high-quality activated carbon will be well-positioned to capitalise on this trend.
Redox proudly offers a vast selection of activated carbon tailored to suit any application. From 25kg bags up to 500 kg bulker and with impregnation options – Redox only sources the highest quality carbons to suit your application through our trusted partner.
Unlock the potential of your sourcing strategy with Redox. Our experts are ready to help you realise a new level of success. Contact one of our experts today.
Exciting news from one of our partners, Tessara, as they have officially launched two new products at Asian Fruit Logistica Bangkok. Two new sulphur pad products for table grapes, called Uvays Vivo and Berrisys, for the blueberry industry which extends the shelf life of blueberries during storage and transportation. 
Read more below about this exciting launch.
Tessara manufactures sulphur dioxide laminated sheets (sulphur pads); the company specialises in fresh science by providing post-harvest solutions that maximise the shelf life of valuable fresh produce to minimise food waste. 
Tessara's production facility is BRC accredited with an AA rating and operates 24/7, 5 to 7 days a week. They have approximately 200 staff, including representatives and agents in key markets in Asia, Africa, Europe, Australia, and North and South America. Tessara offers an innovative range of products that increases the shelf life during post-harvest storage and transportation. 
"Our sulphur dioxide laminated sheets are scientifically designed for individual crops: table grapes, blueberries, raspberries, blackberries and cut flowers. All our products are for post-harvest application; they sterilise the fruit and destroy fungal pathogens, mainly Botrytis cinerea, a common cause of post-harvest rot during storage. Our focus is about keeping fresh produce fresher for longer." 
Tessara's range of products includes UVASYS and UVASYS VIVO, the fully recyclable sulphur pad for table grapes. In addition, BERRISYS and BERRISYS LITE are for berries – blueberries, raspberries, blackberries, and FLORASYS– for cut flowers. 
"A smart change in your post-harvest system can significantly affect your valuable crop's shelf life. We enjoy discussing everything post-harvest to maximise shelf life. 
Both products are available and used in South Africa and the UK, with Turkey and Georgia following suit. In Australia, the APVMA registration for Berrisys is pending for December 2022. We eagerly await this approval to assist the Australian industry with its exports and domestic market opportunities for APVMA registration. Stay tuned and contact us if you have any questions regarding this exciting new product.
National Science Week is an annual celebration of science and technology in Australia. It happens every year in August and has more than 1000 events around the country, delivered by different types of organisations such as universities, schools, research institutions, libraries, museums and science centres.
The school theme for National Science Week in 2022 will be "Glass: More than meets the eye." This is to celebrate the United Nations International Year of Glass, Celebrating the past, present and future of glass for a sustainable, equitable and better tomorrow.
In helping to celebrate National Science Week, we thought we could bring our expertise to this year's school theme – Glass. Redox are very active in this market with a customer base of roughly 154 assorted customers specialising in producing glass products. 
Being a leading chemical and ingredients distributor, we supply our customers with various products to help them produce hundreds, if not thousands, of products made of glass.
What are some of the chemicals we supply?
Materials such as: 
Are all used in the manufacturing of glass products. But, how are these chemicals used in glass products?
Let's look a little closer – Monobutyltin Trichloride.
Monobutyltin Trichloride or MBTC's most critical application area is glass coating. MBTC is used to increase the scratch resistance of glass. A tin oxide coating is applied that closes microcracks and improves resistance to physical effects. It's an essential raw material for this coating.
In the production of flat glass, for example, it's combined with other ingredients in a uniform formulation that creates an even and thin layer.
It's also used to coat containers (bottles, glasses, etc.), where Monobutyltin Trichloride is applied directly via gravity slides, which is depressed into the shape of the final bottle. The still hot bottles then pass through a coating stage where an MBTC vapour is sprayed on the hot surface, which is oxidised. This creates a layer of tin oxide, which forms the coating.
Another critical application the glass industry employs comes from Sodium Sulphate. It's used as "fining agent" to help remove tiny air bubbles within molten glasses and prevent scum formation during refining. The chemical also fluxes the melts while it prevents melt segregation or caking on equipment by preventing negative interactions between components like acidity levels with base stocks such as silica sand.
Endlessly recyclable and natural
"We've been making glass for thousands of years, and we still don't have a good idea of what it is," says Mathieu Bauchy, a glass expert and materials researcher at UCLA. One thing we do know, unlike many other materials that become dangerous waste, glass can be recycled and refilled an infinite amount of times without losing clarity, purity or quality. 
Have a great National Science Week.
Redox has reaffirmed our commitment to the health, safety, and security of our employees, community, and the environment, by successfully passing NACD's Responsible Distribution® verification for the current three-year cycle.
Responsible Distribution is the National Association of Chemical Distributor's (NACD) third-party-verified environmental, health, safety, and security program. It allows members to demonstrate their pledge to continuous performance improvement in chemical storage, handling, transportation, and disposal.
In December 1991, the member companies of NACD undertook as its most important mission the inception of Responsible Distribution, developed by NACD members for NACD members. 
Responsible Distribution is a mandatory third-party verified environmental, health, safety & security program that lets members demonstrate their commitment to continuous performance improvement in every phase of chemical storage, handling, transportation, and disposal. 
NACD members play a leadership role in their communities as information resources. They are eager to provide the same assistance and guidance to local, state, and federal legislators on technical issues relating to the safe handling, storage, transportation, use, and disposal of chemical products.  
Key Benefits of Responsible Distribution
Lower occurrences of safety and environmental incidents

Enjoy better documentation of company policies

Employ practices of excellence and quality systems throughout your operations

Engage in better communication with local communities

Reduce audit costs and time spent on audits

Save on insurance expenses

Improve marketplace visibility and earn credibility through performance
"Responsible Distribution is critical to the chemical distribution industry's ability to safely deliver more than 30 million tons of product every year," said NACD President and CEO Eric R. Byer. 
"Through their successful verification, Redox and its senior leadership have committed to continuous improvement in the responsible management and handling of chemicals that ensures NACD members effectively support the industries America relies on most, such as agriculture, healthcare, oil and gas, manufacturing equipment, and many others."
Please click here to view NACD Responsible Distribution's Guiding Principles.
Our Partnering Manufacturers