Skip to Content
Skip to Navigation
Critical minerals are metallic or non-metallic elements that are essential for modern technologies and low-emission applications, but their supply chains are at risk of disruption, which could have severe consequences for various industries. To mitigate these risks, it is crucial to understand the characteristics of critical minerals, the industries that rely on them, and the associated risks.
Redox's role in the critical mineral supply chain
Redox offers a diverse collection of chemicals and reagents utilized in the mining, processing, and refining of various minerals such as Lithium, Vanadium, and Rare Earth elements. We have partnered with renowned suppliers such as Kraton, whose Tall Oil Fatty Acid 'Sylfat' is considered the leading product in mineral separation. Our mining clients enjoy our broad range of products, along with our top-tier warehouse and distribution network, extensive market expertise, and unparalleled customer service.
What is a critical mineral?
Critical minerals are an essential component of our modern technologies, economies, and national security. They are used to manufacture a wide range of advanced technologies, including low-emission applications like electric vehicles, wind turbines, and solar panels, as well as everyday items like stainless steel and electronics.
Although there is a risk that critical mineral supply chains could be disrupted, it is important to remain positive and proactive in addressing potential challenges. By diversifying supply chains, investing in market development, and promoting sustainable mining practices, Australia can mitigate risks and ensure a stable supply of critical minerals for years.
An Overview of these Minerals
Each country develops its list of critical minerals based on the importance of specific minerals to their industries and evaluating supply risks. However, assessments of mineral criticality are influenced by market and political conditions at a particular time and are subject to change.
The Australian Government has identified 26 critical minerals by evaluating Australia's geological potential and global technology needs, especially those of partner countries. The list of Australia's vital minerals can be found in the 2022 Critical Mineral Strategy.
Australia's critical minerals sector is expanding to meet the increasing global demand for these strategic minerals. Australia is a top producer of several critical minerals, including lithium, rare earth, and zircon. The country is also discovering and developing more deposits of these minerals, as shown in the Australian Critical Minerals Map.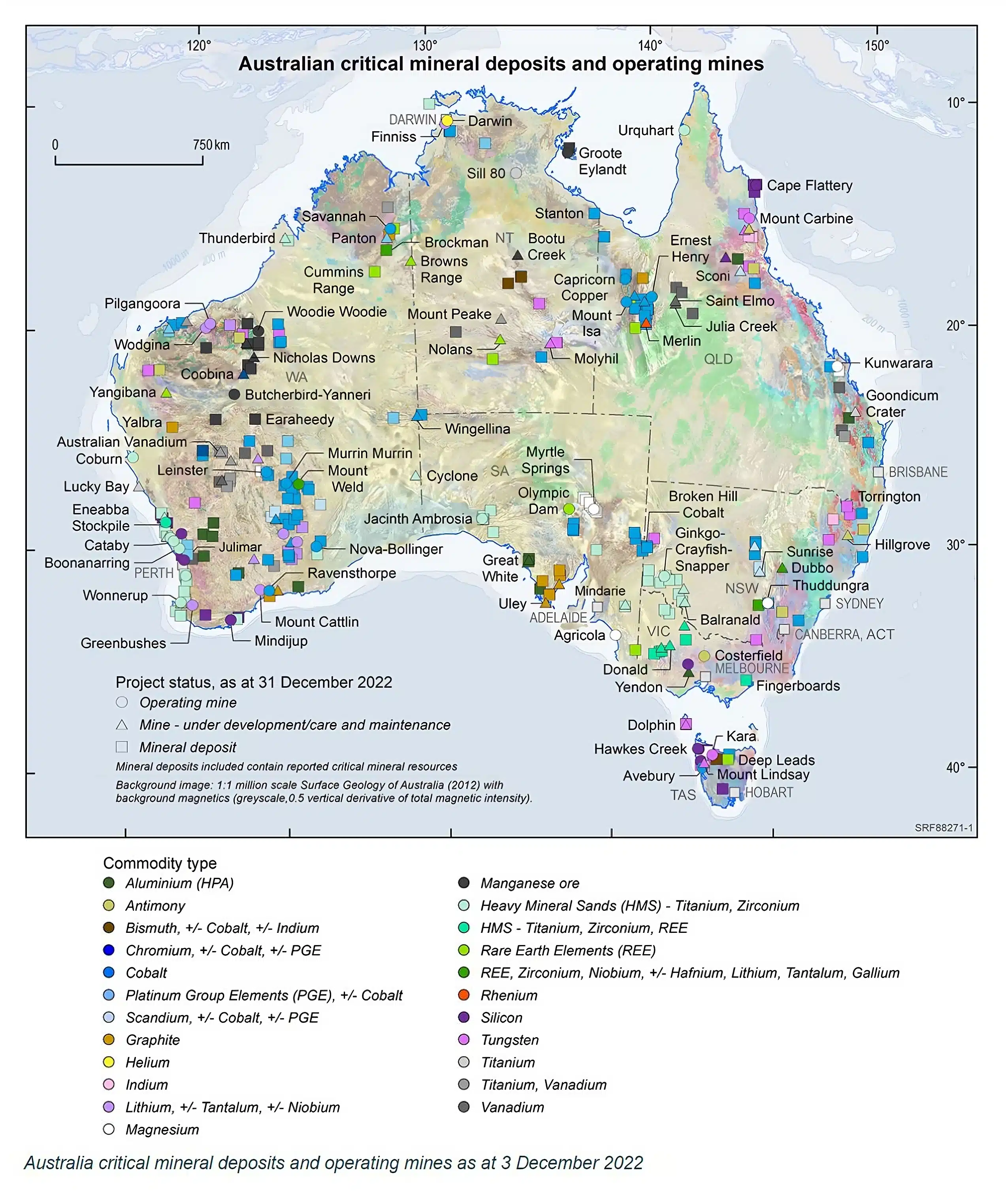 Australia's resources industry has expanded exploration and resource definition in response to the rising demand for critical minerals. Economic inventories of several critical minerals increased in Australia in 2021, including platinum group elements, scandium, vanadium, antimony, cobalt, and tantalum.
To conclude, critical minerals play a vital role in our daily lives, and their importance will only continue to grow as we transition towards a low-carbon economy. To ensure a stable supply of these minerals, it is crucial to diversify supply chains, invest in market development, and promote sustainable mining practices. 
As a global leader in critical minerals production, Australia has identified 26 critical minerals and is expanding its exploration and resource definition to meet the increasing global demand. By prioritizing the sustainable and responsible production of critical minerals, Australia can ensure their availability for future generations.
Exogenous protease supplementation in broiler chicken diets has primarily been attributed to improvements in protein and amino acids digestibility. Therefore, nutritionists can formulate diets with lower levels of dietary protein while maintaining growth performance.
In a typical wheat-soybean meal-based diet, a reduction of 1% in amino acids reduces feed cost by about 3 AUD/Mt.
The use of exogenous phytase in poultry feed is accepted globally, whilst non-starch polysaccharide enzymes (NSPases) such as xylanase and β-glucanase are commonly used in wheat- and barley-based diets, respectively. However, a combination of 3 or more exogenous feed enzymes is less common. A plethora of publications on protease are available, but reports on the effect of protease in diets that include both phytase and NSPases are less frequent. Recently, a deep litter study was conducted by the University of Sydney on wheat/soybean meal-based diets, including phytase, xylanase and protease at stocking densities similar to commercial practice within Australia.
Standard, positive control (PC) diets were formulated to meet or exceed the 2019 Aviagen Ross 308 nutrition specifications and negative control (NC) diets were formulated with a 5% reduction in both crude protein and digestible essential amino acids. A third treatment group consisted of the NC supplemented with the exogenous protease. All diets contained 1000 FTU phytase and 4000 U of xylanase.
Overall broiler growth to 35 days post-hatch exceeded the Ross 2019 male performance objectives by 10.6% for weight gain (2580 versus 2333 g) and was superior by 5.66% in FCR (1.401 versus 1.485). There was a decline in bodyweight gain and inferior FCR when dietary protein was reduced by 5% (2644 versus 2513 g; P = 0.018 and 1.363 versus 1.432; P = 0.005, respectively). However, the addition of protease ameliorated the loss in performance (2583 g bodyweight gain and 1.408 FCR), and results in the finisher period are illustrated in Fig 1. and Fig 2. It is clearly shown that on the basis of phytase and xylanase, adding protease was able to improve amino acids digestibility further and recover 5% reductions in broiler finisher diet essential amino acids and crude protein without an adverse effect on broiler performance.
Β-Mannan in soybean meal is one of the main antinational factors to decrease the efficiency of nutrient use. It has been found to be deleterious to broiler chicken performance, depressing chicken body weight gain and feed conversion ratio (FCR), as well as glucose and water absorption. Adding the exogenous mannanase has been demonstrated to improve chicken performance, significantly reduce coccidial lesion sores and increase egg production. 
Recently, the University of Sydney conducted a broiler chicken trial to investigate the effect of the exogenous mannanase on broiler chicken performance and meat quality in reduced protein diets.
Standard, positive control (PC) diets were formulated to meet or exceed the 2019 Aviagen Ross 308 nutrition specifications and negative control (NC) diets were formulated with a 0.18 MJ in the starter and 0.21 MJ in grower and finisher phases.  Another six treatments consisted of the PC and NC supplemented with the exogenous mannanase  100, 200 and 300 mg/kg, respectively.  All eight diets contained 1000 FTU phytase.
Overall broiler growth to 35 days post-hatch exceeded the Ross 2019 male performance objectives by 23.6% for weight gain (2884 versus 2333 g) and was superior by 10.71% in FCR (1.326 versus 1.485).  Adding 200 mg/kg β-Mannanase in low energy diets obtained better body weight gain and FCR compared with that in the normal standard diets. Interestingly, in the finishing period, adding  β-mannanase to low density diets did not significantly increase feed intake but supported heavier breast meat (Figure 1); However, adding β-Mannanase to standard normal energy density diets significantly increased feed intake and consequent body weight gain but tended to reduced abdominal fat (Figure 2), indicating the dietary energy was efficiently used to produce chicken meat but not fat accumulation. Therefore, β-Mannanase supplementation could save both energy (50 kcal/kg) and amino acids (1% of all essential amino acids reduction).
A study compiled by 
Dr Yumin Bao
, Redox Animal Nutritionist.
Could reduced crude protein (CP) diets reduce NH3 emission by 25% in chicken or pig farms? In today's Animal Nutrition Insights, Redox's Animal Nutritionist Dr Yumin Bao shares his research on amino acids and feed enzymes supplementation that could help to reduce the environmental impacts of poultry and pig production.
Poultry and swine farming has a significant environmental impact on climate change and air or water pollution. In the past decade, phytase, a feed grade enzyme, has been widely used in poultry and swine production to reduce inorganic phosphorus usage and pollution significantly. 
In recent years, the poultry and pig industry has successfully developed reduced crude protein (CP) diets by supplementing unbound crystalline L-Lysine, L-Methionine, L-Threonine, L-tryptophan, L-Valine, L-Isoleucine and L-Arginine, but not compromising chicken and pig performance. It is estimated that each 10 g/kg CP reduction in pig farms could reduce NH3 by 10%, and in poultry, each 15 g/kg CP reduction might reduce NH3 by 16% (Cappelaere et al., 2021). 
Based on recent broiler chicken studies at the University of Sydney, apart from L-Lysine, L-Methionine and Threonine, L-Valine, L-Isoleucine, and L-Arginine are added to broiler chicken diets could further reduce CP by 15g/kg.        
However, it is noticed that in the current CP reduction strategy, feed formulation was conducted by digestible lysine concentration and then balanced with other digestible amino acids, and undigested CP was not considered in the feed formulation. 
It is well-known that adding exogenous feed enzymes in poultry and swine diets could overcome the adverse effects of antinutritional factors and improve the digestion of dietary nutrients. 
While Xylanase is becoming a norm in Australian wheat-based diets to reduce digesta viscosity in chicken or pig gut, adding Protease and Mannase has recently been demonstrated to improve dietary amino acids digestibility by 3% and increase chicken body weight gain by 5%, respectively. 
Therefore, under the current commercial conditions, adding protease and mannase could reduce Digestible Lysine concentration from 1.1% to 1.0% in the finisher period, roughly another 10-15 g/kg CP reduction. 
In conclusion, in the current poultry and swine diets with supplementation of L-Lysine, L-methionine and L-Threonine, further adding L-Valine, L-isoleucine, L-Arginine, protease, and mannase could reduce at least 25 g/kg CP and accordingly reducing NH3 emission by 25% in chicken or pig farms.
Contact us today and ask us how we can assist with specialist advice from one of our nutritionists and offer the best price and service on any of the below products:
Our Partnering Manufacturers