Skip to Content
Skip to Navigation
Redox are proud distributors of a range of products from United Initiators including CAROAT®.
CAROAT® is the preferred option to solve problems which are caused by super chlorination when using common pool & spa sanitizers, such as chlorine, bromine and other non-halogenated alternatives.
CAROAT® is characterized by the following:
odourless
fast dissolving
a powerful oxidizer (high oxidation potential)
oxygen-based, doesn't contain chlorine
unaffected by UV degradation
compatible with sanitizers based on chlorine, bromine and other non-halogen based alternatives
CAROAT® is a non-chlorine oxidizer used for shock treatment applications. It has all the positive functionality of a chlorine oxidizer while avoiding the negative side effects.
Download the United Initiators Pool & Spa technical bulletin here and if you have any questions you may refer them to our dedicated Watercare Technical Manager.
This versatile material can also be used in a range of other applications such as –
Denture cleaners: Effective main ingredient in cleaning tablets for dentures.
Bleaching agent: CAROAT® has a bleaching effect comparable to that of organic peracids; in the TAED/perborate system it is particularly effective at low temperatures.
Biocidal effect: Suitable as an additive to acidic cleaning agents with bleaching and disinfectant effect.
Effluent treatment: Oxidative treatment of problematic effluents; sulfide oxidation, nitrite oxidation and cyanide detoxification.
Plaster additive: Addition of CAROAT® leads to generation of oxygen and improved product characteristics (e.g. thermal insulation, water absorbency, mechanical properties).
Metal treatment: Microetchant: Use for etching printed circuit boards.
Textile finishing (shrink proofing of wool)
Chemical synthesis (production of dioxirane)
Paper manufacture (repulping, particularly of wet-strength paper).
About United Initiators
United Initiators is a global and leading producer of peroxide-based initiators, Hydrogen Peroxide and specialty chemicals. The company offers a broad range of organic peroxides, persulfates, Hydrogen Peroxide and selected specialty chemicals. Organic peroxides are used in a large variety of polymerization processes and polymer processing applications.
The use of persulfates ranges from aqueous polymerization processes, over electronics, disinfection, cosmetics, metal etching, paper treatment, Oil & Gas exploration to a broad field of bleaching processes. Hydrogen Peroxide is used in consumer goods, disinfection applications and is an enable for the world's digital economy.
United initiators has several production facilities in Europe, North America, Asia-Pacific, Turkey and India. UI's mission is to be the best serving peroxide producer for a growing world.
How Can Redox Help?
With Redox, rest assured that our unwavering commitment to excellence will empower your business.
Contact us today to discover how we can be an essential partner in your sourcing strategy, or click here to view the product page.
ICIS Chemical Business Magazine has released their annual Top 100 Chemical Distributors for 2023 and Redox has been ranked as the largest Australian distributor, 12th largest in APAC and the 34th globally.
This list includes 340 of the world's leading chemical distributors with rankings based upon revenue achieved during Calendar Year 2022.
Of note Redox has climbed 30 places in North America as the company grows it's presence in the US and Mexican markets, with new locations opened recently in Houston, Dallas and Seattle.
This result is an endorsement of the value that Redox has been able to deliver for clients and our suppliers through the good work of our dedicated team.
Click here to read the full report.
A surfactant, also known as a surface-active agent, is a substance that lowers the surface tension between two substances. It is a molecule that contains both hydrophilic (water-loving) and hydrophobic (water-hating) parts, allowing it to interact with water and oil.
Surfactants are a wide spectrum of products but are broadly classified as Anionic, Nonionic, Cationic or Amphoteric depending on whether the electrical charge is positive, negative or neutral on the hydrophilic head.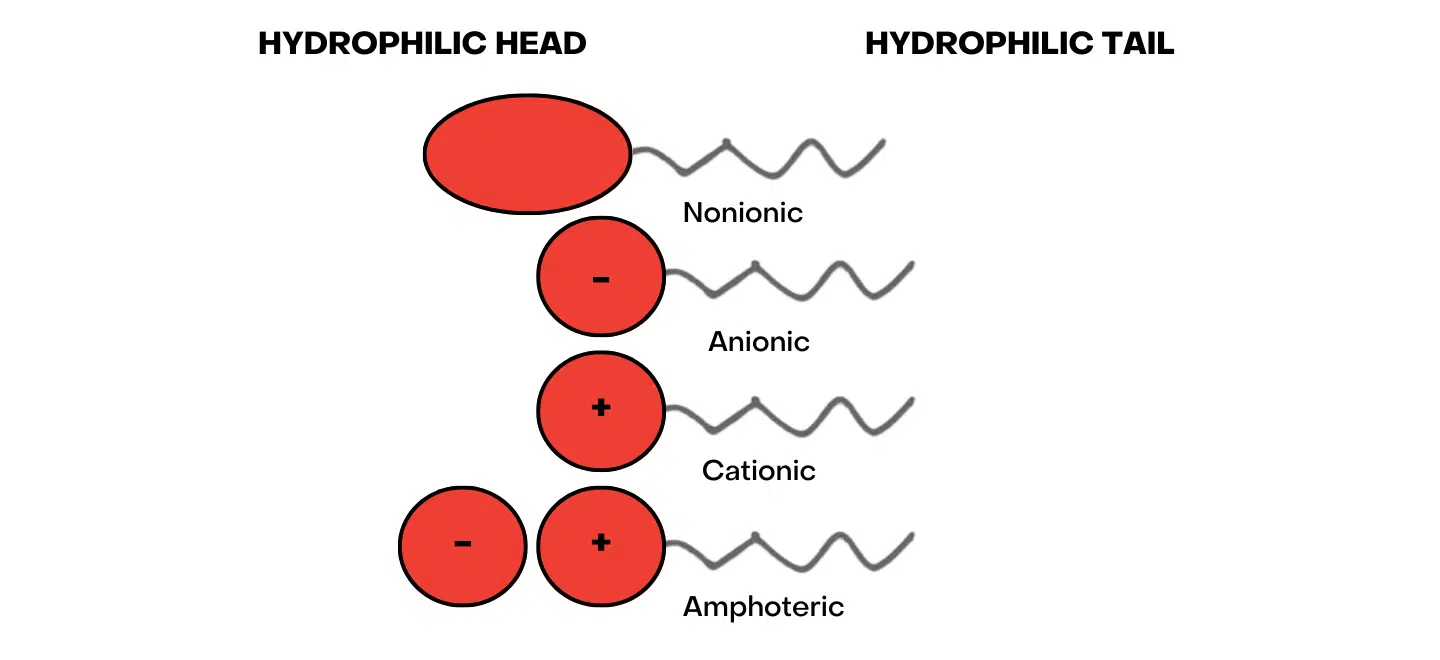 Surfactants are commonly used in cleaning products such as detergents, soaps, and shampoos. They can break down oils and dirt and help them mix with water for easier removal. They are also used in industrial processes such as oil recovery and in medical applications such as lung surfactants, which help maintain the structure of the lungs and prevent collapse.
Examples of surfactants include sodium lauryl sulphate, commonly found in household cleaning products and personal care items, and polysorbate 80, used in food, cosmetics, and pharmaceuticals.
Surfactants are used in a wide variety of products, including:
Detergents and cleaning products

: Laundry detergents, dishwashing liquids, all-purpose cleaners, and bathroom cleaners all contain surfactants that help to remove dirt, oil, and grease from surfaces.

Personal care products

: Shampoos, body washes, hand soaps, and toothpaste all contain surfactants that help to clean and remove oils from the skin and hair.

Cosmetics

: Makeup removers, facial cleansers, and body wash contain surfactants that help break down and remove makeup and other impurities.

Food and beverages

: Emulsifiers and stabilizers are surfactants used in food and beverage products to help mix ingredients that would not usually mix well, such as oil and water.

Agriculture

: Surfactants are used in agricultural products, such as herbicides and pesticides, to help them stick to plants and improve their effectiveness.

Petroleum

: Surfactants are used in the petroleum industry to improve oil and gas flow through pipelines and help recover oil from underground reservoirs.

Lubricants

: By adding surfactants to car engine lubricants, it becomes possible to prevent particles from adhering to engine parts, enabling the parts to move smoothly and maintain the proper functioning of the car.
Surfactants have several unique qualities that make them useful in a wide range of applications:
Surface tension reduction

: Surfactants have the ability to reduce the surface tension between two substances, such as water and oil. This allows the substances to mix more easily and enhances the ability of the surfactant to clean, emulsify, or disperse.

Amphiphilic nature

: This unique structure allows surfactants to interact with water and oil hydrophilic (water-loving) and hydrophobic (water-hating), essential for their cleaning use and emulsifying.

Self-assembly

: Surfactants can self-assemble into organized structures, such as micelles or bilayers, in certain conditions. This allows them to form stable emulsions, which are essential in creating many products such as lotions, creams, and paints.

Interfacial activity

: Surfactants are active at interfaces, such as the boundary between two liquids or a liquid and a solid. They can adsorb to the surface of a substance, which can change its surface properties, such as its wetting or adhesion behaviour.
Overall, these unique properties make surfactants extraordinarily versatile and valuable in a wide range of applications, from cleaning products and personal care items to industrial processes and medical applications.
Did you know that Hydrochloric Acid is also known as HCL, muriatic acid, or spirits of salt? It's utilised in a variety of industrial and commercial settings. For those who work in industries that use this chemical, it's vital to understand the most common applications, what they accomplish, and what you need to know to handle them safely and responsibly.
Hydrochloric Acid is an odourless, colourless solution with a pungent smell. But behind this almost invisible veneer lies a powerful punch. For instance, Hydrochloric Acid can react with metals to form an explosive gas. Yet, it can also be found in many home cleaning products.
Hydrochloric Acid is classified as a class 8 hazardous product, i.e. it's a corrosive substance and can cause burns and irritation to the skin. Due to its corrosive properties, extreme care must be taken when handling this product. Make sure to wear appropriate safety equipment when handling hydrochloric acid. Ensure to avoid direct eye contact; if this occurs, seek immediate medical advice. 
We recommend you consult the safety data sheet when using, storing or handling the product.
Hydrochloric Acid in the market and its many uses
This potent acid is found in many industries and has a wide range of uses.
The most significant end uses for Hydrochloric Acid are steel pickling, oil well acidising, food manufacturing, producing calcium chloride, and ore processing.
We also find substantial use of Hydrochloric Acid across many other industries like:
Mining, 

water treatment, 

oil/gas, 

detergents, 

leather, building, 

textile, 

rubber, 

photography. 
How its used also varies significantly. For instance, in water treatment, it's used to control pH levels, or in swimming pools, it can help remove any stubborn algae from the floors and walls of your pool. 
In acidising oil wells, it helps remove carbonate reservoirs, or limestones and dolomites, from the rock. It's used in laboratories for acid-base titrations and for producing organic and inorganic compounds like PVC.
In 2020 the global Hydrochloric Acid market size was US $7.8 billion and was expected to record a revenue CAGR of 1.5% over the forecast period through 2028. 
How can we help you?
Redox's Hydrochloric Acid is available in various pack sizes, including 20-litre carboys, 240 kg drums, 1150 kg IBCs and bulk tanker/Isotainers loads. The product comes in a range of strengths ranging from 6% to 33%, with 32% hydrochloric acid being the main commonly used strength.
Contact one of our experts to discover how Redox can be essential to your sourcing strategy.
Lactic Acid is a versatile material found in a variety of innovative products that was first discovered by the Swedish chemist Carl Wilhelm Scheele in 1780 and produced commercially by Charles E. Avery in 1881. 
It's Applications in Industry?
Lactic Acid is a naturally occurring organic acid utilised in various industries, such as cosmetics, pharmaceuticals, chemicals, food, and, most recently, medical industries.
In the food industry, which accounts for a large portion of the demand (35%), it has several uses:
It acts as an acidifier for bread,
prevents the development of harmful bacteria in pickles, relishes, salad dressings,
adds a mild-tasting sourness to beverages and candy,
In dairy products, it is used to prevent fermentation and,
It is an essential ingredient in fermented foods, like yoghurt, butter, and canned vegetables.
However, it is also used as an antimicrobial in cleaning products, has applications in the leather tanning industry, in descaling processes, in the textile industry as a mordant (fixative) for dyeing, and can be converted to ethanol, propylene glycol, and acrylic polymers in the chemical industry.
Although it's been commercially available for a long time, it is only in recent decades that new uses have resulted in a tremendous increase in demand.
For example, its an essential building block in producing a range of new and innovative bioplastics, PLA or Polylactic Acid – the new generation of biodegradable polymers.
The use of Lactic Acid in manufacturing environmentally friendly, green solvents is another area for significant potential growth. Using it as a green solvent enriches the diversity and versatility of bio-based green solvents and could offer an effective means for designing environmentally benign synthetic systems.
Its application and innovative usefulness seem ever-growing, and in 2010, it was included in a report issued by the U.S. Department of Energy on chemicals that are considered potential building blocks for the future.
Lactic Acid from Redox
Redox is proud to work with leading manufacturers of Lactic Acid and Lactates globally and can create solutions for all customer requirements.
Redox supplies Lactic Acid in the Australian, New Zealand, Malaysian, and North American markets and is available in various packing sizes. These include 25kg carboys, 250kg steel drums and 1200kg IBCs.
We offer it in a range of varied strengths, with a powder form also available for specific applications. Our Lactic Acid conforms to the Food Chemicals Codex (FCC), ensuring our product's overall safety and integrity.
Contact one of our experts to discover how Redox can be an essential element of your sourcing strategy.
The rise of the industrial phosphates industry has gone hand in hand with technologies to purify phosphoric acid. During the 1960s and 70s, chemical producers raced to develop an adequately pure phosphoric acid for manufacture.
Two processes prevailed in the manufacturing of purified Phosphoric acid:
the 'wet' process
the thermal process
The thermal process typically produces a more concentrated and purer product. Still, it is energy-intensive, whereas the wet process undergoes a ten-step purified process of Ag grade phosphoric acid (involves sulphuric acid & rock phosphate).
Both methods meet FCC standards for food use.
How is Phosphoric acid being used?
It's a highly versatile and economical product where users are generally chasing its medium-strong strength acidic nature, Phosphorus (P) content or both.
Main uses include – 
source of Phosphorus in Agriculture

cleaning & metal treatment agent

food & beverage additive as an acidulant or flavouring agent

pH adjuster in cosmetics 

reagent in water treatment

production of detergents and many more. 
The latest and most exciting use is in Lithium batteries for electric cars. 
Announced as part of the third-quarter earnings report, Tesla reported that all entry-level Model 3 and Model Y electric vehicles would be equipped with lithium iron phosphate (LFP) battery cells, an excellent stimulus for the iron phosphate industry.
Our commitment to our customers
We deal in Purified Phosphoric Acid (PPA – white or clean), white being the most commercially important, accounting for 99% of demand worldwide. 
We have established a substantial Australian & New Zealand market share due to our long term partnerships with some of the worlds most prominent and most reliable PPA producers.
Whilst PPA is predominately produced in China, we have sources in Europe, Vietnam, the USA and some other smaller regions, ensuring continuity of supply to our many customers across Australia, New Zealand, and now into the USA and Malaysia.
This year, in particular, had demonstrated our capacity to continue to supply when the market fluctuations were at their highest, due primarily to China's energy and environmental constraints as well as world shipping difficulties linked with the COVID pandemic.
How we can help
We supply 1000L IBC's in Australia, bringing drums, carboys, and Isotainers. Strengths are 85%, 81% and 75%, and generally, in lower temp climates, users will use lower strength to avoid a slight chance of crystallisation. 
Our massive stock levels across our warehouses allow us to fulfil orders at short notice regardless of the required quantity and deliver them to any location across our customer base.
Working with a supplier that can guarantee consistent quality is critical; Redox is in a great position to meet and exceed your expectations. Contact one of our industry specialists today.
Chinese producers of downstream phosphorus products have recently called Force Majeure, announced large price increases or have cancelled/delayed shipments.
1. Electricity supply problems
China's yellow phosphorus output is concentrated in the Yunnan, Sichuan, Guizhou, and Hubei provinces' south-western region.
Hydroelectric power generation is the main source of electricity in the south-west area and with this year's dry period in Yunnan being longer than in previous years (December to May) generation was impacted.
It was only in May of this year that power restrictions began to escalate again in Yunnan, affecting a large proportion of the yellow phosphorus market who were forced to reduce or stagger their production.
With this as a backdrop, we can see how yellow phosphorus prices began to rise noticeably from mid-May onwards and as a result the market supply tension has continued to intensify as the market essentially has not enough inventory to meet demand.
It is predicted that the price and supply of yellow phosphorus will continue to trend upwards, at least in the short term.
2. Environmental protection and production restrictions
China produced 130 million tons of phosphate ore each year until 2015, when it was at its peak.
However, environmental concerns were being raised and the potential issues that could impact the phosphate market if left unchecked for too long. Things such as uncontrolled mining and primarily small and medium-sized business practices and the impacts these have on the environment.
As a result, improving the governance and adaptation of phosphate mines has been one of China's most significant environmental governance triumphs in recent years.
However, and as a result, under the policy of environmental protection and production restrictions China's phosphate ore production has decreased drastically, with negative growth in production from 2016 and a negative growth rate of -27.9% in 2018.
For the first time in recent memory, production fell below 100 million tons for the first time in history and ongoing production continues to drop under the policy of environmental protection and industrial limitations.
3. Popularity of Lithium iron phosphate batteries
Power batteries are classified as being either lithium iron phosphate or ternary lithium, depending on their composition. Ternary lithium batteries have gained popularity in recent years because of their high energy density, whereas lithium iron phosphate batteries are recognized for being less expensive and safer.
The contemporary downstream application market has also increased yellow phosphorus demand this year. In 2021, the yellow phosphorus market has benefited from the surge in downstream applications. When compared to the more traditional market, the battery industry C lithium iron phosphate is a more powerful ally of the yellow phosphorus market than it was even this time last year.
As of May, the cumulative production of lithium iron phosphate was 50.3%, more than 49.6% of ternary lithium batteries, and is predicted to see year on year growth up to 80%.
Affected products
Some of the affected products that may be impacted by the issues surrounding the phosphorus market have been listed below.
Please contact your Redox representative to discuss any concerns or supply strategy.
Soluble Fertilisers – MAP, DAP, MKP, APP
Phosphoric Acid,
Polyphosphoric Acid.
Phosphorous Acid.
Phosphonates – HEDP, ATMP, PBTC etc
Food Grade Phosphates – SAPP etc
Tech Grade Phosphates – STPP etc
Glyphosate.
Hypo phosphoric Acid.
Sodium Hypophosphite.
Red Phosphorous.
Any organo phosphite/phosphate.
Phosphine(s).
ICIS Chemical Business Magazine has released their annual 'Top 100 Chemical Distributors' list naming Redox as the 11th largest distributor in Asia and 33rd worldwide based on 2020 calendar year revenue (USD $531.2m)
The annual list presents global rankings of companies who are leaders in chemical distribution, positioning global players by sales and also breaks out regional leaders. This year there was a record of nearly 300 companies participating.
Click here to read the full report.
Our Partnering Manufacturers

Redox opens up a world of opportunity giving you access to more than 940 of the world's best manufacturers.