Skip to Content
Skip to Navigation
Tannins are polyphenolic commands and the secondary metabolites of higher plants. Tannins are generally classified as condensed tannins, hydrolysed tannins and phlorotannins. Condensed tannins consist of flavan-3-ol subunit linked together to form oligomers and polymers, whereas hydrolysed tannins are easters of gallic or ellagic acid linked to polyol core.
Phlorotannins are structurally less complexed and occur only in marine brown algae. Because secondary metabolites serve as a part of plant chemical defence system against invasion by pathogens and attack by insects, tannins have shown antimicrobial, anti-parasitic, antioxidant, anti-inflammatory and anti-virus properties. Recently it was reported that condensed tannins significantly reduced methane emission, but hydrolysed tannins failed to affect methane reduction. However, both condensed tannins and hydrolysed tannins reduced Nitrous Oxide emission.
Feedlot and pasture frothy bloat is a serious and often fatal digestive disorder that develops in cattle or sheep when gas produced during fermentation of feeds is trapped within the rumen in the stable form and prevent eructation. Moderate levels of condensed tannins (<50 g/kg DM) reduce protein degradation in the rumen without depressing rumen fibre digestion or DM feed intake. It is generally believed that condensed tannins may bind protein in the rumen and reduce foam stability by avoiding microbial degradation and be absorbed in the small intestine.
Tannins exert their anti-parasitic effect by decreasing the viability of larvae, thus interfering with egg hatching, and improving the immunity (Table 1). Some tree bark is rich in plant second metabolites, especially condensed tannins.
Recently it was demonstrated that the tree bark-stripping behaviour is primarily for ruminants to acquire condensed tannins to repel gastrointestinal parasites.
Redox are proud distributors of a range of products from United Initiators including CAROAT®.
CAROAT® is the preferred option to solve problems which are caused by super chlorination when using common pool & spa sanitizers, such as chlorine, bromine and other non-halogenated alternatives.
CAROAT® is characterized by the following:
odourless
fast dissolving
a powerful oxidizer (high oxidation potential)
oxygen-based, doesn't contain chlorine
unaffected by UV degradation
compatible with sanitizers based on chlorine, bromine and other non-halogen based alternatives
CAROAT® is a non-chlorine oxidizer used for shock treatment applications. It has all the positive functionality of a chlorine oxidizer while avoiding the negative side effects.
Download the United Initiators Pool & Spa technical bulletin here and if you have any questions you may refer them to our dedicated Watercare Technical Manager.
This versatile material can also be used in a range of other applications such as –
Denture cleaners: Effective main ingredient in cleaning tablets for dentures.
Bleaching agent: CAROAT® has a bleaching effect comparable to that of organic peracids; in the TAED/perborate system it is particularly effective at low temperatures.
Biocidal effect: Suitable as an additive to acidic cleaning agents with bleaching and disinfectant effect.
Effluent treatment: Oxidative treatment of problematic effluents; sulfide oxidation, nitrite oxidation and cyanide detoxification.
Plaster additive: Addition of CAROAT® leads to generation of oxygen and improved product characteristics (e.g. thermal insulation, water absorbency, mechanical properties).
Metal treatment: Microetchant: Use for etching printed circuit boards.
Textile finishing (shrink proofing of wool)
Chemical synthesis (production of dioxirane)
Paper manufacture (repulping, particularly of wet-strength paper).
About United Initiators
United Initiators is a global and leading producer of peroxide-based initiators, Hydrogen Peroxide and specialty chemicals. The company offers a broad range of organic peroxides, persulfates, Hydrogen Peroxide and selected specialty chemicals. Organic peroxides are used in a large variety of polymerization processes and polymer processing applications.
The use of persulfates ranges from aqueous polymerization processes, over electronics, disinfection, cosmetics, metal etching, paper treatment, Oil & Gas exploration to a broad field of bleaching processes. Hydrogen Peroxide is used in consumer goods, disinfection applications and is an enable for the world's digital economy.
United initiators has several production facilities in Europe, North America, Asia-Pacific, Turkey and India. UI's mission is to be the best serving peroxide producer for a growing world.
How Can Redox Help?
With Redox, rest assured that our unwavering commitment to excellence will empower your business.
Contact us today to discover how we can be an essential partner in your sourcing strategy, or click here to view the product page.
ICIS Chemical Business Magazine has released their annual Top 100 Chemical Distributors for 2023 and Redox has been ranked as the largest Australian distributor, 12th largest in APAC and the 34th globally.
This list includes 340 of the world's leading chemical distributors with rankings based upon revenue achieved during Calendar Year 2022.
Of note Redox has climbed 30 places in North America as the company grows it's presence in the US and Mexican markets, with new locations opened recently in Houston, Dallas and Seattle.
This result is an endorsement of the value that Redox has been able to deliver for clients and our suppliers through the good work of our dedicated team.
Click here to read the full report.
You might not notice it when you look around, but titanium dioxide (TiO2) is everywhere. From the paint on your walls to the sunscreen you apply before heading out, TiO2 is an essential mineral that plays a significant role in various industries.
What is Titanium Dioxide?
First isolated and named by William Gregor in 1791, titanium dioxide is a naturally occurring, chemically stable, non-toxic, and odourless mineral. Its outstanding light-scattering properties make it valuable in multiple applications, such as cosmetics, sunscreens, paints, coatings, plastics, and even food products.
But that's not all. TiO2 is also a photocatalyst in environmental applications, such as air and water purification, and is a critical component in electronics and solar cells. Its versatility and diversity make it one of the world's most widely produced and consumed materials.
How is Titanium Dioxide Used?
TiO2 is a versatile mineral that is widely employed across a multitude of industries. It serves as a light-scattering agent in surface coatings and road markings, contributing to a brilliant and reflective finish. In the world of plastics, paper, inks, and rubber, TiO2 functions as a whitening agent, providing increased opacity and visual appeal to these materials.
Moreover, TiO2 is an indispensable ingredient in the production of cosmetic products and sunscreens, owing to its remarkable capacity to protect against harmful ultraviolet (UV) radiation. Additionally, in the food industry, it is used to brighten and whiten various products.
Despite its multifaceted applications, the most significant demand for TiO2 comes from the surface coatings and plastics industries, which account for nearly 80% of its global consumption.
What Influences the Pricing of Titanium Dioxide?
The price of titanium dioxide is subject to various factors, including shipping costs, raw materials such as ilmenite, and the production process. Depending on production location, i.e., China is the world's second largest TiO2 producer and has a higher percentage of manufacturing via the sulphate process compared to the USA, where chloride TiO2 production is more dominant. There are two primary methods for producing titanium dioxide: sulphate and chloride. Sulphate production is more prevalent, while chloride production is generally considered higher quality, albeit at a higher cost.
These factors all play a role in determining the final price of titanium dioxide, a vital mineral used in a wide range of applications.
How Can Redox Help?
We offer Titanium Dioxide in various packaging sizes, ranging from 25kg bags to 500kg and 1000kg bulker bags. The product is available in multiple grades, including Anatase and Rutile, produced through sulphate and chloride production processes. Customers can choose from various options to suit their specific needs.
Trust Redox to deliver the best results for your business. Contact us today to discover how we can be an essential partner in your sourcing strategy.
In recent years, it is widely accepted that based on an ideal amino acid profile, a moderate reduction of dietary crude protein (CP), 20 to 30 g/kg, will not compromise broiler chicken performance.
These reduced CP levels are usually achieved by increasing feed grains such as wheat inclusion at the expense of soybean meal, relatively more starch replacing fat as the non-protein energy source. It is reported that increased non-starch polysaccharides (NSP) presented in wheat will enhance faecal bile acids loss, resulting in either increased bile acids pool or bile acids deficiency.
Traditionally bile acids are considered to be bio-surfactants, assisting intestinal digestion and absorption of lipids and fatty soluble vitamins such as Vitamin A, D, E and K, and thereby improving nutrient utilization. Recently it has been shown that bile acids act as regulators of gut microbiome and play a key role as signalling molecules by modulating cell proliferation, gene expression, lipid and glucose metabolism. To evaluate if the reduced CP diet could affect fat digestibility, the University of Sydney conducted a broiler chicken trial by adding the exogenous bile acids to both normal CP and reduced CP diets.
Standard, normal protein (SC) diets were formulated to meet or exceed the 2019 Aviagen Ross 308 nutrition specifications and reduced protein (RC) diets were formulated with a 3 g/kg CP reduction in the starter (0-14 d), grower (15-28) and finisher (29-42) phases. Another two treatments consisted of the SC and RC supplemented with the exogenous bile acids 200 mg/kg, respectively.  All diets contained 1000 FTU phytase and 4000 U Xylanase.
Surprisingly, reducing 30 g/kg CP significantly depressed body weight gain and feed intake by 4.8 % and 2.8%, respectively (P < 0.01) although chicken performance fed on RP diets exceeded the Ross 2022 male performance objectives by 4.31% for weight gain (3361versus 3222 g) and was superior by 2.76% in FCR (1.475 versus 1.517).  Figure 1 clearly showed that the current ideal amino acids profile resulted in significant lower plasma Valine, Isoleucine, Arginine, Leucine, tryptophan and histidine concentrations in RP diets, indicating that the current ideal amino acids profile could not support 30 g/kg CP reduction although it might achieve commercially satisfied performance.
Interestingly, the addition of the exogenous bile acids had no effect on crude fat digestibility but significantly improved crude protein and dry matter digestibility (Table 1) possibly due to reduced endogenous bile taurine loss. In Table 1, it is also shown that adding bile acids to the RP diet, significantly reduced mortality rate (P < 0.003).
In RP diets, due to other amino acids such as valine, isoleucine and arginine limitation, dietary methionine becomes more surplus but adding bile acids significantly increased plasma methionine concentration (Figure 2). Therefore, the efficacy of bile acids may be related to dietary methionine concentration which could convert to taurine. In general, in grower period (15-28), adding the exogenous bile acids to a RP diet achieved the best chicken performance and FCR was improved by 5 points (Table 2).
In recent years, the poultry and pig industry has been successfully developing reduced crude protein (CP) diets to reduce Nitrogen pollution and improve the litter quality. It is reported that 2.5%-unit crude protein reduction in poultry or pig diets will reduce ammonia by 25%. Considering 1 MT ammonia is equivalent to 2.11 MT carbon dioxide, this trend will have a tremendous impact on climate change. However, nutritionists need to do more to deal with reduced protein diets.
1. 
Reduced protein diets and limiting amino acids (AA) 
Traditionally, in wheat-soybean meal-based poultry diets, unbound crystalline L-methionine, L-Lysine and L-Threonine have been routinely added to meet chicken growth requirements. It is clear now that by further adding L-Valine, L-Isoleucine and L-Arginine, the crude protein level could be reduced by 1.5 to 2% unit but not compromise chicken performance. It is noticed that in reduced protein diets, dietary valine or arginine deficiency will result in plasma Lysine, Methionine and Threonine accumulation; Dietary isoleucine deficiency will result in plasma methionine and threonine surplus, indicating that in reduced protein diets, if L-Valine, L-isoleucine and L-Arginine were not added, dietary lysine, methionine and threonine cannot be fully utilized by chickens to contribute to muscle growth. In particular, dietary Arginine deficiency resulted in a considerable surplus of threonine, affecting mucus secretion. (Figure 1).
2. Optimal SID Lysine (g/kg) to AME (MJ/kg) ratio in reduced protein diets
While formulating a reduced protein diet, nutritionists will usually use more grains and reduce oil or fat contents. Considering the higher energy efficiency of oil or fat, it is not clear yet if we need to increase apparent metabolizable energy (AME) requirement in reduced protein diets. However, in 2018, the University of New England (UNE) published a broiler chicken trial paper to show that AME requirement might mainly depend on dietary lysine concentration. In grower period, the optimal SID lysine (g/kg) to AME (MJ/kg) was determined to be 0.88 (Figure 2).
3. Endogenous loss of taurine in reduced protein diets
It is noticed that in reduced protein diets, more starch will replace fat as the dietary non-protein energy source, leading to more faecal bile acids loss. Recently, the research in Massey University demonstrated that the major endogenous amino acid loss in broiler chicken bile would be taurine. Considering taurine is an important anti-oxidant to regulate immune system health, in stress situation, the reduced protein diet might result in disease infection. It is widely known that taurine is produced by cysteine in chicken body and dietary methionine can convert to cysteine. In a recent broiler chicken trial conducted in the University of Sydney, adding exogenous bile acids to the reduced protein diets significantly reduced mortality rate due probably to increased plasma methionine concentration (Figure 3).
4. Reduced protein diets by exogenous protease supplements
To some degree, in reduced protein diets, dietary protein levels are determined by dietary standard ileal digestible (SID) lysine concentrations because other SID essential amino acids to SID lysine ratios are used in ideal amino acids profile. It is estimated that 5% SID lysine reduction will reduce dietary crude protein by 1% unit. In practice, the efficacy of protease is mainly determined by undigested protein concentration in feed ingredients. Usually when SID lysine (%) to undigested protein (%) ratio is lower than 0.3, dietary SID lysine and other essential amino acids could be reduced by 5% (Figure 4).     
5. Phosphorus and phytase in reduced protein diets 
 In reduced protein diets, soybean meal and other protein ingredients will be partially replaced by grains and crystalline amino acids. Phytate phosphorus and available phosphorus variation in feed ingredients (Table 1) may increase inorganic phosphorus usage. We also need to reconsider phosphorus matrix value in phytase and absorption rate in inorganic phosphorus (Table 2). In table 1, it is clearly show that in sorghum-based diets, the matrix value of phosphorus in phytase may be higher than that in wheat-based diets, but it will be lower in reduced protein diets because of lower inclusion levels of soybean meal. In table 2, it is shown that when formulating reduced protein diets, both inorganic phosphorus contents and their bioavailability should be considered. In general, inorganic phosphorus bioavailability is strongly related to citric acid solubility and current DCP and MDCP practical bioavailability could be predicted by citric acid solubility.
6. Nucleotide supplements in reduced protein diets 
In reduced protein diets, almost all essential amino acids requirements could be met by adding crystalline amino acids. The reduced protein contents mainly come from non-essential amino acids concentration including glutamine and aspartic acids, which are precursors to produce nucleotides in the chicken body. In cocci vaccination and high-stock density stress situation, this exogenous production of nucleotides might not be sufficient to support a healthy immune system. Table 3 clearly shows that in Eimeria challenging situation, adding Nucleotides (IMP) significantly alleviate the challenging impact on chicken body weight gain (BWG) and feed conversion ratio (FCR) 
7. Gut health concern in reduced protein diets
In Australia and USA, coccidiostats are considered as antibiotics and are banned in antibiotics free production. Currently in breeder and claimed antibiotics free chicken production, Eimeria vaccination has been widely practiced controlling cocci infection. However, broiler chicken feed intake is sufficiently reduced by the vaccination challenging dose and each double dose will worsen FCR by 9 points (Figure 5). Some new gut health related feed additives are necessary in reduced protein diets for young animals to fight against disease challenging.
Mannanase: Β-Mannan in soybean meal is one of the main antinational factors to decrease the efficiency of nutrient use. Supplementation of the exogenous mannanase has been demonstrated to increase chicken feed intake, significantly reduce coccidial lesion sores and increase breast production. Dietary AME can be saved by 50 kcal/kg due to reduced immune response sensitivity. The efficacy of Mannanase addition is strongly related to soybean meal inclusion levels and optimal crude fiber (%) to SID Lysine ratio is about 1.45 for Mannase response. 

Glucose oxidase: Cell-mediated immunity is thought to be important in the resistance of chickens to infection by coccidia. It has been demonstrated that sporozoites of Eimeria tenella are very sensitive to superoxide ions. Adding exogenous glucose oxidase to reduced protein diets could consume surplus oxygen and increase the shelf life of diets. More importantly, it can endogenously produce hydrogen peroxide to directly kill Eimeria and improve gut health. The heat tolerable glucose oxidase is commercially available now.

Antimicrobial peptide: Previously it targets Gram negative bacteria such as 

E coli

 and 

Salmonella

. Right now, new product is available to protect from Gram positive and negative bacteria infection including 

colostrum perfringens

. Usually, Gram positive bacteria are acids resistance and organic acids are useless in Gram positive bacterial infection.  

 Postbiotics: different from traditional probiotics, this postbiotics also includes metabolites from probiotics such as peptides, lipoprotein and bacteriocins, more widely building up the first defense line 

Tri-butyrin: it will promote the overall gut health by facilitating tight junction assembly. 
8. Other concerns regarding to reduced protein diets 
In reduced protein diets, feed grains such as wheat inclusions will usually increase at the expense of soybean meal. The current supplemental dosage of xylanase needs to be increased to completely degrade soluble Xylan in wheat and reduced viscosity.
In addition, compared with wheat, soybean meal contains more potassium and choline (Table 4). Therefore, extra potassium bicarbonate or potassium chloride and choline chloride may be increased in reduced protein diets. 
A study compiled by Redox Animal Nutritionists.
A surfactant, also known as a surface-active agent, is a substance that lowers the surface tension between two substances. It is a molecule that contains both hydrophilic (water-loving) and hydrophobic (water-hating) parts, allowing it to interact with water and oil.
Surfactants are a wide spectrum of products but are broadly classified as Anionic, Nonionic, Cationic or Amphoteric depending on whether the electrical charge is positive, negative or neutral on the hydrophilic head.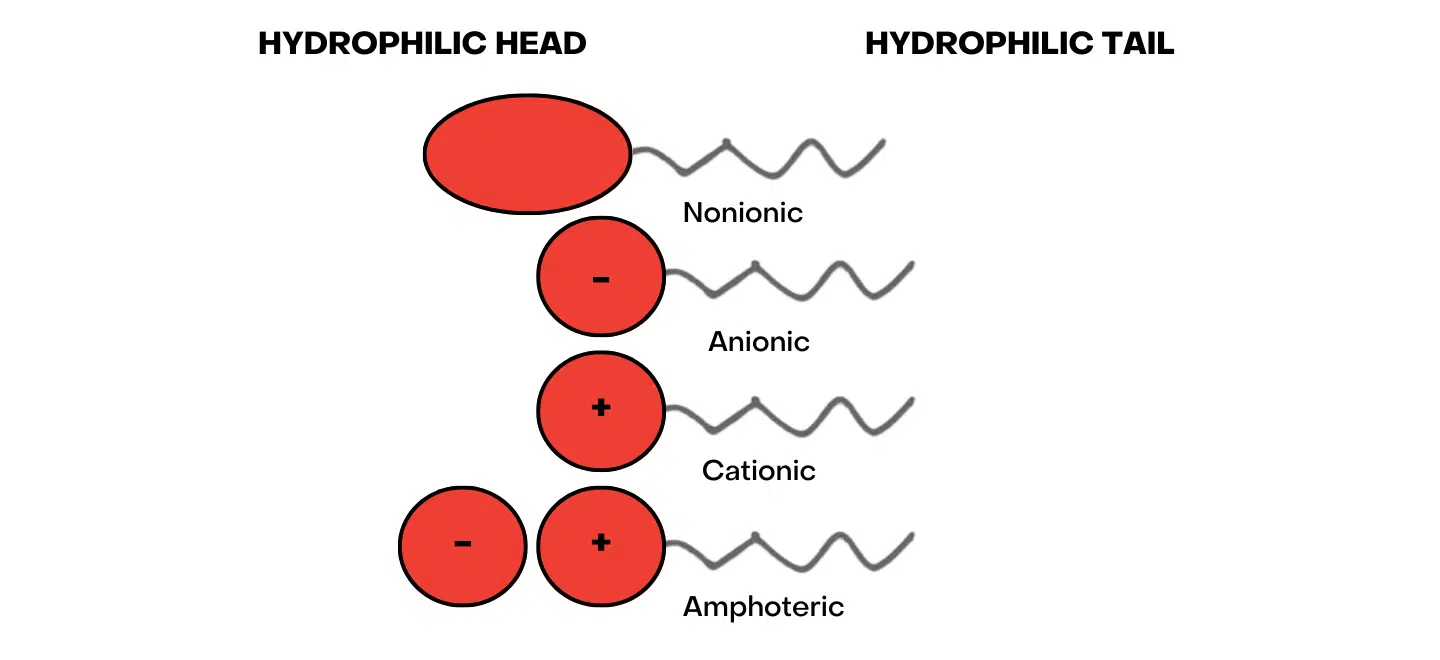 Surfactants are commonly used in cleaning products such as detergents, soaps, and shampoos. They can break down oils and dirt and help them mix with water for easier removal. They are also used in industrial processes such as oil recovery and in medical applications such as lung surfactants, which help maintain the structure of the lungs and prevent collapse.
Examples of surfactants include sodium lauryl sulphate, commonly found in household cleaning products and personal care items, and polysorbate 80, used in food, cosmetics, and pharmaceuticals.
Surfactants are used in a wide variety of products, including:
Detergents and cleaning products

: Laundry detergents, dishwashing liquids, all-purpose cleaners, and bathroom cleaners all contain surfactants that help to remove dirt, oil, and grease from surfaces.

Personal care products

: Shampoos, body washes, hand soaps, and toothpaste all contain surfactants that help to clean and remove oils from the skin and hair.

Cosmetics

: Makeup removers, facial cleansers, and body wash contain surfactants that help break down and remove makeup and other impurities.

Food and beverages

: Emulsifiers and stabilizers are surfactants used in food and beverage products to help mix ingredients that would not usually mix well, such as oil and water.

Agriculture

: Surfactants are used in agricultural products, such as herbicides and pesticides, to help them stick to plants and improve their effectiveness.

Petroleum

: Surfactants are used in the petroleum industry to improve oil and gas flow through pipelines and help recover oil from underground reservoirs.

Lubricants

: By adding surfactants to car engine lubricants, it becomes possible to prevent particles from adhering to engine parts, enabling the parts to move smoothly and maintain the proper functioning of the car.
Surfactants have several unique qualities that make them useful in a wide range of applications:
Surface tension reduction

: Surfactants have the ability to reduce the surface tension between two substances, such as water and oil. This allows the substances to mix more easily and enhances the ability of the surfactant to clean, emulsify, or disperse.

Amphiphilic nature

: This unique structure allows surfactants to interact with water and oil hydrophilic (water-loving) and hydrophobic (water-hating), essential for their cleaning use and emulsifying.

Self-assembly

: Surfactants can self-assemble into organized structures, such as micelles or bilayers, in certain conditions. This allows them to form stable emulsions, which are essential in creating many products such as lotions, creams, and paints.

Interfacial activity

: Surfactants are active at interfaces, such as the boundary between two liquids or a liquid and a solid. They can adsorb to the surface of a substance, which can change its surface properties, such as its wetting or adhesion behaviour.
Overall, these unique properties make surfactants extraordinarily versatile and valuable in a wide range of applications, from cleaning products and personal care items to industrial processes and medical applications.
Today is World Water Day, focusing on expediting efforts to address the global water and sanitation crisis. Since water is a fundamental need for everyone, it is essential that each one of us takes responsibility and takes action towards this cause.
In 2021 Redox commenced support for Médecins Sans Frontières (MSF) to aid their critical global efforts. Our donations help enable the teams at MSF to respond promptly to emergencies and deliver superior medical care to those in dire need-no more important than clean, accessible water.
MSF operates in countries where access to water can mean the difference between life and death. Inadequate water results in crop failure and suffering, while excess water leads to natural calamities like floods, landslides, and epidemics. Clean water is crucial in preventing waterborne illnesses.
During times of crisis and disaster, the most vulnerable, such as children, pregnant women, the elderly, and displaced individuals, are usually the first to bear the brunt. In Afghanistan and Syria, people are cut off from water supplies. In contrast, the Sahel region's lack of food and water exacerbates existing inequalities. Eastern Africa experiences relentless storms and cyclones, causing widespread destruction.
Humanitarian medical needs continue to grow in these regions, and climate crises are emerging as a new area of concern for aid organizations. Drought in Madagascar is leading to increased malnutrition, while frequent extreme weather events are destroying livelihoods in countries such as Malawi. Persistent flooding in South Sudan has resulted in a rise in malaria cases.
These crises are often intertwined, with water being the common denominator.
Despite the challenges facing the world's freshwater resources, there is still hope for a sustainable future. By taking action to conserve and manage our water resources, we can help ensure a future where clean and safe water is available to everyone. We can make a difference by adopting sustainable water practices in our daily lives, such as reducing water usage, fixing leaks, and using water-efficient appliances. Organizations and governments can also play a significant role by implementing policies and initiatives that promote sustainable water management. Let us take inspiration from World Water Day to work together towards a future where access to fresh water is a reality for all.
Join us in supporting the critical work of Médecins Sans Frontières by clicking here to donate. Your contribution will help MSF continue providing lifesaving care in emergencies and beyond, ensuring that vulnerable communities receive the help they need even after the headlines have faded. 
One of the most powerful solutions to ensure a safe mine environment is fire retardant anti-static (FRAS) materials, which protects against all kinds of hazardous situations like fuel fires or explosions caused by heat build-up, static sparks, and other combustible substances that could seriously compromise your mine's safety.
Materials such as rubber, polyurethane, PVC, polyethylene, polypropylene and polyester are often used to make base materials that are then manufactured into products for underground coal mining. Fibre-reinforced resin materials such as fibreglass and carbon fibre composite are also used. 
The products manufactured include ventilation sheeting (brattice) and ventilation stoppings, ventilation ducting (rigid and flexible), dust curtains, venturi blowers, air fans, pipes, conveyor belting and conveyor accessories.
Recommendations on FRAS materials
Mine operators of underground coal mines must ensure that control measures are implemented for products subject to the accumulation of static charge. The control measures should include the following:
Procedures to verify the products are installed per the manufacturer's directions for static discharge.

Appropriate measures are implemented to ensure that the properties of FRAS materials are maintained over time.
Manufacturers of FRAS-rated materials must ensure that testing is undertaken in accordance with the relevant requirements of MDG 3608 by an independent testing facility for:
All FRAS material intended for use in an underground coal mine

Any change of material composition or manufacturing technique for a FRAS-rated material, including changes of colour, to verify the suitability of the material.
Manufacturers and suppliers of products incorporating FRAS materials as components must ensure that:
The product's design incorporates suitable controls to prevent the accumulation of a static charge on the FRAS components.

Instructions for the safe use of the product include mounting or suspension requirements to prevent the accumulation of a static charge on the FRAS components.

Any change of material composition or change to the product design, including changes of colour, size or placement of eyelets, rivets or mountings, are tested in accordance with the relevant requirements of MDG 3608

The product is suitably marked to indicate compliance with MDG 3608.
How can we help?
To minimise risks, improve occupational health and safety hazards, and, importantly, minimise underground ignitions, fire retardant anti-static (FRAS) materials are now required in all NSW underground mines, monitored by the NSW resources regulator.
Redox offers many polymer/composite options for differing FRAS application solutions. 
Contact our Plastics division today if you would like to learn more about material solutions supported by our many international principal partners. 
Produced from carbon-rich organic materials, activated carbon's superior performance as an adsorbent lends itself to a growing list of applications as environmental regulations continue to become more stringent.
Activated carbon is a game-changing adsorbent, revolutionising how industries tackle contaminants and unwanted particles in liquids or gases. Pollution control efforts are particularly taking advantage of its capabilities, with reports pointing towards an optimistic future – all thanks to the growing call for environmental solutions globally.
How is Activated Carbon being used in industry?
Activated carbon is an incredibly versatile compound that serves a range of diverse functions. 
From the granular medium traditionally used to trap pollutants from liquids and gases to 

pellets designed explicitly for tackling volatile organic compounds (VOCs) and Hydrogen Sulfide (H2S) in gas filtration, 

it even comes in powder form – which can be added directly into liquid or soil to absorb toxins easily. 
Its remarkable properties have enabled some incredible advancements across multiple industries.
While Activated carbon has become a powerful ally in multiple industries, from purifying potable and wastewater to cleaning out toxic gases from the air we breathe, it also plays an essential role in soil remediation by removing dangerous pollutants like PFAS and other organic compounds. 
Even beverages can benefit– with Activated carbon able to strip wine and juices of their unwanted colour or toxins, such as patulin found commonly in apple juice!
Natures renewable resource
Customers are increasingly turning to sustainable solutions – unlike other forms of activated carbon, coconut shells and wood are renewable resources, each with unique properties when it comes to removing impurities.
In particular coconut shells are an incredibly sustainable solution to global raw material needs. Renewable and accessible within six months, coconuts outshine common alternative materials such as coal or wood that can take millions of years and decades to form. Not only do coconut trees capture CO2 from the atmosphere, but their harvesting is a by-product of our food industry – making them earth-friendly and beneficial in other ways.
Using it to produce activated carbon prevents it from being wasted and potentially burnt as fuel. In fact, every part of the coconut has a use, and there is no waste. The water, meat, husk and shell are all used across various industries.
Recent market reports point to an optimistic future driven by demand for its environmental uses. With a heightened awareness surrounding eco-friendly products like coconut-based activated carbon, new possibilities present daily as we uncover just how powerful this substance truly is in the fight against pollution. 
How can we help?
Despite a range of competitor adsorbents available, activated carbon continues to lead the way across numerous applications. Thanks to solid growth prospects in key regions and industries, demand for this versatile material is set to remain healthy in the coming years. As a result, companies providing high-quality activated carbon will be well-positioned to capitalise on this trend.
Redox proudly offers a vast selection of activated carbon tailored to suit any application. From 25kg bags up to 500 kg bulker and with impregnation options – Redox only sources the highest quality carbons to suit your application through our trusted partner.
Unlock the potential of your sourcing strategy with Redox. Our experts are ready to help you realise a new level of success. Contact one of our experts today.
Our Partnering Manufacturers
Redox opens up a world of opportunity giving you access to more than 940 of the world's best manufacturers.